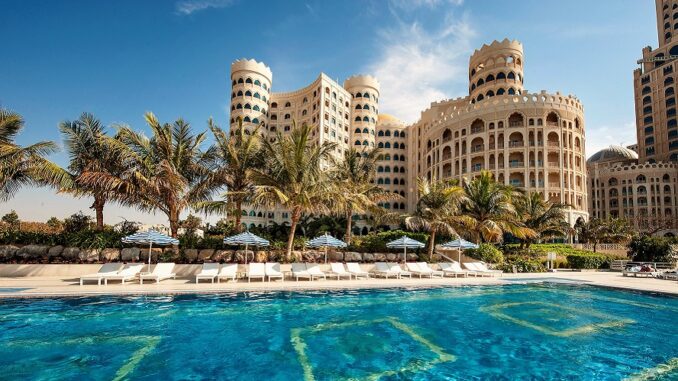 ---
Ramadan and Eid Staycation offers at Al Hamra Residence, Ras Al Khaimah
Set on the pristine beach of the Arabian Gulf, the Al Hamra Residence is nestled at the heart of tourist attractions in Ras Al Khaimah and offers 143 spacious residences starting from studios to 5-bedroom penthouses, ideal for any staycation. It is located directly on the Al Hamra beach with the most immaculate beachfront views.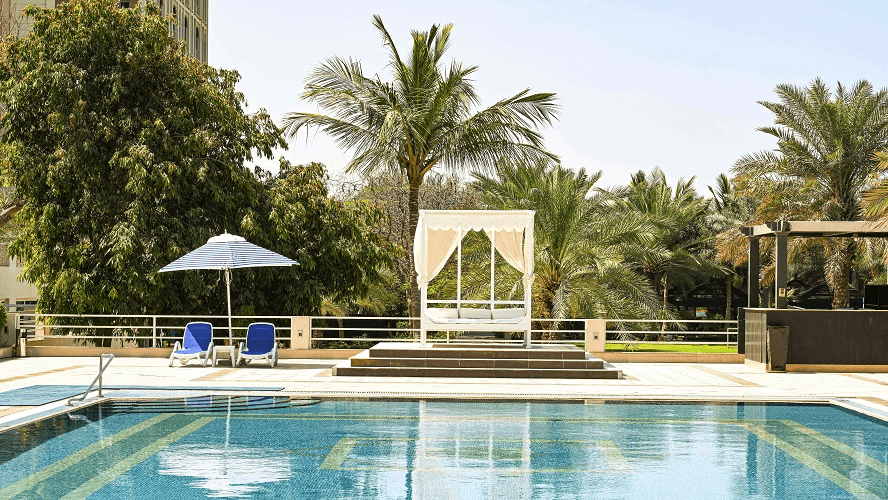 The uniquely decorated property offers a multitude of recreational facilities ranging from children to adult swimming pools, along with a health club, gyms and tennis courts. The Residences include a selection of dining options from All-Day Dining to Pool & Beach Bars with amazing views overlooking the shores.
For more details on Al Hamra Residence staycation and booking information, please check the latest offers below.
Ramadan Offer
Rates
Starting from AED 300/- for a Studio Room, single occupancy per night
Payable upon check-out
Inclusive of breakfast in Social Market all-day dining restaurant or Suhour orders from Room Service selected menu
Additional person breakfast / suhour charge at AED 50/- per room per night
15% discount on Food & Beverage consumption
Late check-out
Free until 2 PM
Bookings
Please call +971 7 206 7222 and mention booking code: AHRRO
Validity
April 15th to April 30th, 2022
Terms & Conditions apply
---
Eid al Fitr Offer
Rates
Starting from AED 550/- for a Studio Room, single occupancy
Inclusive of breakfast in Social Market all-day dining restaurant
Additional person breakfast charge at AED 50/- per room per night
15% discount on Food & Beverage consumption
Late check-out
Subject to availability
Bookings
Please call +971 7 206 7222 and mention booking code: AHREFO
Validity
May 1st to May 5th, 2022
Terms & Conditions apply
---
The All-Inclusive Offer
Rates
Starting from AED 550/- for a Studio Room, single occupancy
All-Inclusive basis
Additional all-inclusive person charge at AED 250/- per room per night, subject to applicable taxes
Late check-out
Free until 2 PM
Bookings
Please call +971 7 206 7222 and mention booking code: AHRAIO
Validity
May 7th to September 30th, 2022
Terms & Conditions apply
---
Residents Weekend Stay Offer
Rates
Starting from AED 550/- for a 1-bedroom Residence, double occupancy
Inclusive of breakfast in Social Market all-day dining restaurant
Additional person charge at AED 150/- per room per night inclusive of breakfast and extra bed
Valid Emirates ID to be presented upon check-in
Late check-out
Subject to availability
Bookings
Please call +971 7 206 7222 and mention booking code: AHRWSO
Validity
April 15th to September 30th, 2022
Only during weekends (Friday, Saturday or Sunday)
Not valid during Eid al Fitr or Eid al Adha
Terms & Conditions apply
Terms and Conditions
Rooms are subject to availability
Rates are subject to 10% service charge, 7% municipality fee and 5.5% VAT
Rates are subject to Tourism Fee: AED 20/- per bedroom per night, payable upon check-out
For further information, please contact Al Hamra Residence, Jazeera Al Hamra, Ras Al Khaimah at +971 7 206 7222 or by email at info@alhamraresorts.com or visit alhamraresorts.com
---