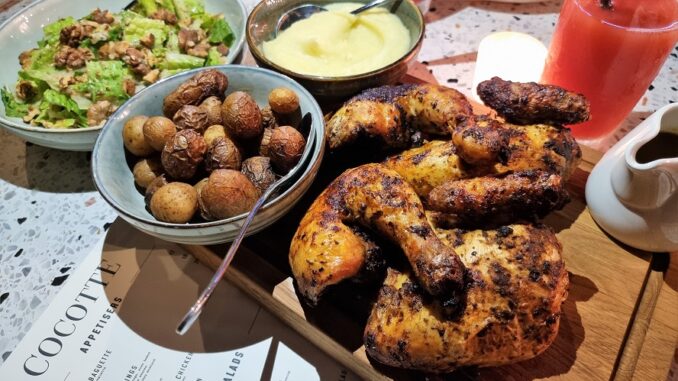 ---
Champion of Rotisserie chicken, Cocotte welcomes you in Dubai
French-inspired, Cocotte Rotisserie, has just named Jumeirah Beach Residence in Dubai as its first site outside of London. And everyone knows a restaurant is going to be good when its sister locations can be found in London's trendiest spots, namely, Notting Hill, Shoreditch, South Kensington, Parsons Green, and Queen's Park.
Cocotte's concept was brought to life by founder and chef Romain Bourrillon, who has created a menu filled with healthy and delicious home-made dishes using techniques he honed during his time working in Belgium's Michelin-starred restaurants.
To enter the GCC market, Cocotte Rotisserie has partnered with Food & Beverage heavyweight, eathos, the same group behind Dubai's star sushi concept, SushiArt, as well as Lebanese favourite Kababji and California-cool Tortilla, with numerous sites across the United Arab Emirates and Saudi Arabia. Eathos started operating in the UAE in 2014, with a core focus on launching world-class casual and fast-casual dining establishments across the region, with Cocotte Dubai as their latest addition to the portfolio.
---
CEO of eathos, Nadim Majdalani, had this to say about the opening of Cocotte Rotisserie in Dubai:

We are delighted to be partnering with such a unique, established, and exciting brand like Cocotte. At eathos, we focus on introducing a diverse portfolio of compelling brands with contemporary culinary offerings to the forefront of the restaurant industry in the GCC. We're looking forward to being part of the great growth story of Cocotte in our region.
---
The star of Cocotte's menu is the chicken: French-inspired flavours, lovingly marinated for 24 hours in a blend of "Herbes de Provence" and secret spices, before being cooked to perfection on the traditional rotisserie spit. The finished result is a beautifully moist and tasty chicken with a glorious, golden skin. Diners can choose between a full (AED 122), half (AED 63), or quarter chicken (AED 43).
Every star needs an epic support act, so you can rest assured that Cocotte boasts an impressive array of delicious salads and sides, including the kale & roasted squash salad, ratatouille, rosemary fries, and decadent truffle mac & cheese. Why not up the ante with seven sauces that will perfectly complement your chicken, including truffle mayo, tarragon mustard and Cocotte's signature chicken jus!
If you're craving a burger or sandwich, then you'll find something to hit the spot with the likes of the halloumi pesto chicken sandwich or the inventive chicken waffle sandwich.
---
The new Cocotte Rotisserie Dubai restaurant is located on The Beach, JBR, seats up to 85 people and boasts a laid back, brasserie feel.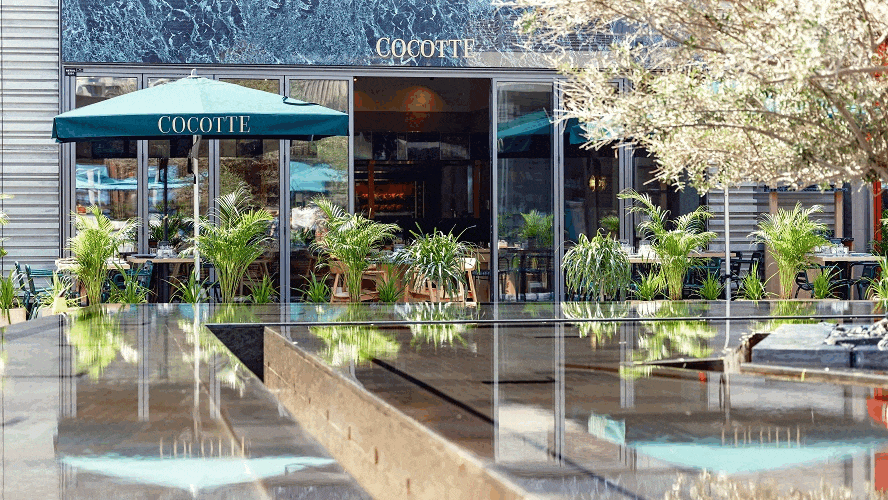 Chef Romain Bourrillon says,

We are thrilled to open Cocotte Rotisserie Dubai, our first location outside of London. This is an incredibly exciting move as we know that many expats and Emiratis alike love Cocotte, whether they are from London or have visited as tourists. It's great that they can now enjoy our famous French-inspired rotisserie delights in Dubai. We are also very excited to be partnering with eathos, who are behind some exceptional existing concepts in the GCC and we look forward to every success in our venture with them.
For bookings or more information, please call +971 4 564 1995, email cocotte.jbr.dxb@eathos.me or visit cocottearabia.com (walk-ins welcome).
---