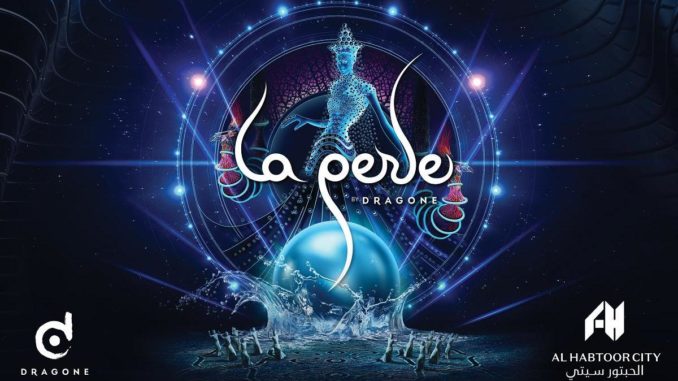 ---
Breathtaking talent at La Perle's World Premiere
The highly-anticipated World Premiere of Dubai's spectacular new permanent show, La Perle by Dragone, officially took place on Wednesday, September 13th. It was a full house with 1,300
international and regional VIP guests. They all gathered in the new state-of-the-art aqua theatre at Al Habtoor City to celebrate this milestone occasion.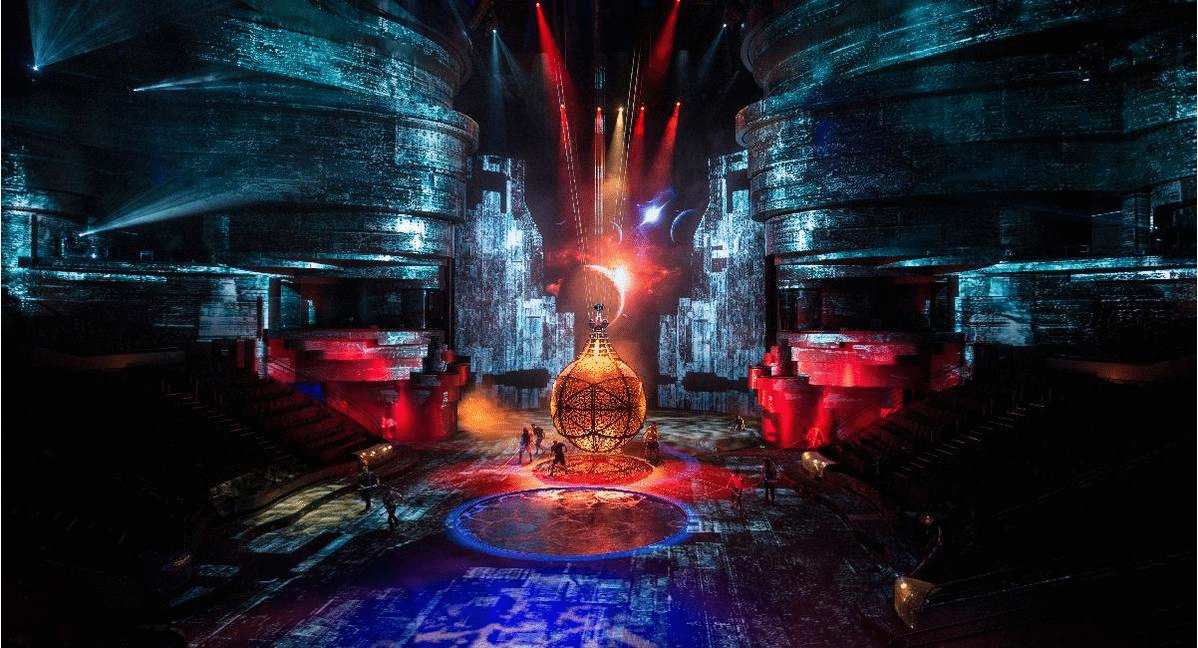 Hence, the unique show, which combines world-class talent with the most technically-advanced theatre production, defines a new era in global live entertainment.
[ngg_images source="galleries" container_ids="3″ sortorder="42,38,39,43,40,44,41″ display_type="photocrati-nextgen_basic_slideshow" gallery_width="600″ gallery_height="400″ cycle_effect="fade" cycle_interval="3″ show_thumbnail_link="0″ thumbnail_link_text="[Show thumbnails]" order_by="sortorder" order_direction="ASC" returns="included" maximum_entity_count="500″]Earlier, the glamorous event commenced with the arrival of A-list guests and regional high-profile figures as they walked on La Perle's signature blue carpet. Then, guests were treated to an exquisite selection of canapés and drinks before they were escorted inside the theatre to watch an incredible 90-minute live performance that featured mind-blowing acrobatic and aerial stunts.
---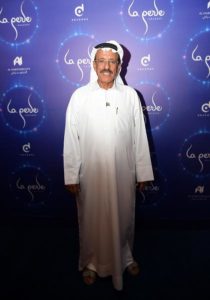 La Perle positions Dubai as a world-class entertainment hub
Before the spell-binding performance, the Founding Chairman of Al Habtoor Group, Khalaf Ahmad Al Habtoor – who brought the show to Dubai – gave an introductory speech.
Also he highlighted La Perle as an important step towards positioning Dubai as a global cultural and entertainment destination.
In conclusion, Khalaf Ahmad Al Habtoor commented: "We are delighted to bring permanent theatre to the United Arab Emirates. La Perle has secured Dubai's position as a world-class entertainment hub."
---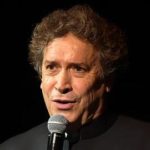 "A piece of eternity", says Franco Dragone
Franco Dragone, Founder and Artistic Director of the show production and creation company, Dragone and Director of La Perle said: "I want to provide a little piece of eternity for the region, a place of escape that any culture and ethnicity can understand and enjoy". He added, "I was so inspired by Dubai and it is an honor to introduce that vision to the world."
---
Visually stunning spectacle in, on and above water
The show is a ground-breaking fusion of breathtaking artistic performance including awe-inspiring aquatic and aerial feats, creative imagery and cutting-edge technology. In addition, La Perle is a visually stunning spectacle in, on and above water. Therefore it encapsulates the spirit of Dubai and pays homage to the region's rich history, present and future.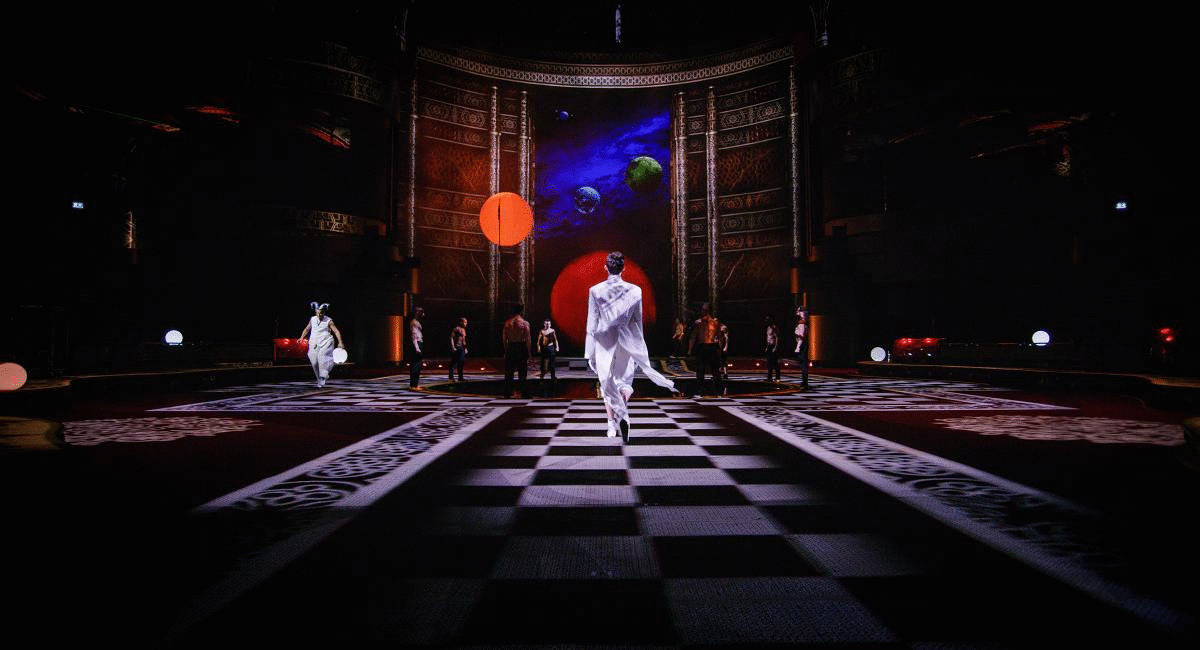 After the show the festivities continued in an exclusive after-party at BOA Lounge & Club inside W Dubai – Al Habtoor City where the 65 performing artists, from around the world, celebrated with the attendees.
---
La Perle takes place twice a night, five days a week.
Performances run from Tuesday to Friday at 7:00 pm and 9:30 pm,
and Saturday at 4 pm and 7 pm. Tickets start from AED 400
---
Ticket bookings
Please visit www.laperle.com
or go through the dedicated Box Office: 800 LAPERLE (800 517373) / +971 4 437 0123, boxoffice@laperle.com or via PlatinumList.com
For all group and MICE bookings or for general sales inquiries please contact sales@laperle.com
---
Press Contacts
La Perle: Hannah Shanks | hannah.shanks@laperle.com | +971 50 143 9694
Havas PR ME: Darina Grant| darina.grant@havasprme.com | +971 56 397 6777
Al Habtoor Group: Joanna Andrews | joanna@habtoor.com | +971 50 645 7737
Dragone: Marie Tirtiaux | marie.tirtiaux@dragone.com
---
About La Perle
La Perle is a new show produced by cultural creative company Dragone. And it is directed by the legendary artistic director Franco Dragone and brought to Dubai by the Al Habtoor Group. Being the first permanent show in the region, La Perle is a breathtaking fusion of artistic performance, creative imagery and ground-breaking technology. Hence, La Perle defines the future of global live entertainment, taking place in a tailor-made aqua theatre in the heart of Al Habtoor City.
Register online at www.laperle.com for further information on sale announcements. #LaPerleDXB
---
About Dragone
Artistic Director, Franco Dragone, founded the cultural creation company, Dragone, in 2000 in La Louvière, Belgium. Consequently, today as one of the world's most sought-after artistic directors, he is famous for having invented a new genre in the 1980's and 90's.
During his early days, he created shows (Saltimbanco, Quidam, Mystère, Alegria, O) that forever changed the face of live entertainment in Las Vegas. And, decades later, these shows still receive nightly standing ovations.
From super-sized-shows in tailor-made theatres to operas in some of the world's most historical buildings, Dragone's unique creative approach carefully fuses the world's human talents, artistic disciplines and technical innovations to serve local cultures and tell their stories.
Among its most significant shows of the past decade: Celine Dion a New Day; Le Rêve (Las Vegas); The House of Dancing Water (Macau); Aida (Naples); The Han Show (Wuhan, China); The Dai Show (Xishuangbanna, China); Philipp Kirkorov – Me (Russia).
---
Five centres of excellence
Water has become a key component of Dragone's artistic DNA. Therefore, the company is now the world's leading designer of aquatic theatres and shows.
Furthermore, the company creates, produces and operates shows and special events around the world. Hence, its five creative centres of excellence — Casting, Illustration & Video, Costumes, Architecture & Design, and Talents & Trends — push the boundaries of performing arts and of the spectator experience with every new creation.
Further information on Dragone is available on www.dragone.com
---
About Al Habtoor City
Al Habtoor City is an upscale residential, hospitality and leisure development. Most noteworthy, it consists of three five-star hotels (The St. Regis Dubai, W Dubai – Al Habtoor City and The Westin Dubai, Al Habtoor City), three luxury residential towers on Sheikh Zayed Road and on the banks of the Dubai Water Canal with unparalleled amenities, and spectacular leisure and entertainment venues.
Further information the Al Habtoor City is available on www.alhabtoorcity.com
---
About Al Habtoor Group
Al Habtoor Group (AHG) LLC, has its headquarters in the United Arab Emirates (UAE). Furthermore, it is one of the region's largest and most respected conglomerates. Founded in 1970 by Khalaf Ahmad Al Habtoor, the Group has grown in unison with the UAE.
Moreover, today it has a diverse portfolio of successful businesses. And these operate in key sectors of the economy (hospitality, automotive, real estate, education and publishing). Finally, the AHG has an unwavering commitment to excellence, which is apparent throughout all its units.
Further information on the Al Habtoor Group is available on www.habtoor.com
---