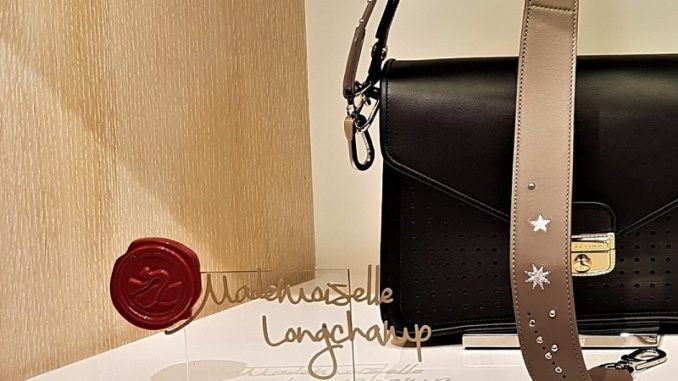 ---
The Mademoiselle Longchamp handbag is proud to be French
The world-renowned French leather goods and clothing house hosted fashion's elite at their boutique for an exclusive experience of French art de vivre to debut the all new "Mademoiselle Longchamp" bag for the fall season.
The Mademoiselle Longchamp is the definitive new hobo bag: chic, confident and proud to be French. Stylish and sassy, Mademoiselle Longchamp is the brands' most assertive bag yet. In a flourish of leather craftsmanship, stunning, sensual calfskin is punctuated with an edgy perforated motif. This unapologetic line caters to the liberated woman; entirely at ease with herself, the world is her oyster.
The exquisite model is distinguished by refined details: an iconic clasp, signature hardware, and an enamel-finished wax seal – the authentic hallmark of Longchamp craftsmanship. The color palette sets the tone for the season in elegant black, delicate grey, warm cognac and sunny mimosa.
---
Mademoiselle Longchamp is a feminist statement
Inspired by 1970s heroines, this hobo bag conjures images of Jane Birkin and Françoise Hardy, both fiercely independent women and icons of their time. Nowadays the cross-body bag is the accessory of choice for the vivacious Parisienne juggling a hectic schedule. As her busy day comes to a close she dangles the bag glamorously from her shoulder to transition seamlessly from daytime to evening.
Mademoiselle Longchamp
is a feminist statement, a carefree piece designed to make women's lives easier. Free of constraints, women are free to love life. Sleek and structured, casual and sensual, the
Mademoiselle Longchamp
line of bags has been created for women keen to break with convention. Women for whom nothing is impossible.
Guests mingled to the sound of French music, posed in a Parisian apartment setting, and had their portraits sketched by artist Sara Japanwalla. One lucky winner even walked away with their very own
Mademoiselle Longchamp
bag. The event was a true reflection of Longchamp's tradition of excellence with each piece of the collection a symbol of French craftsmanship and savoir-faire.
---
View also
---
About Longchamp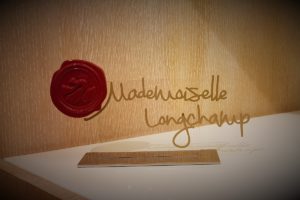 Founded in Paris in 1948 by Jean Cassegrain, and still owned and run by the Cassegrain family today, Longchamp's handbags, luggage and accessories have a world renown reputation for craftsmanship and quality, which now extends to shoes and ready-to-wear collections.
Longchamp is an international brand that has maintained momentum and energy across the decades. It epitomizes French flair, fresh and inspiring creativity, as well as sharing the lives of women and men across the world who enjoy a touch of luxury every day. Refreshing advertising campaigns and exciting collaborations with artists underline the contemporary and sometimes playful spirit of Longchamp, which owns more than 300 exclusive boutiques worldwide.
---
Mall of the Emirates Dubai | The Dubai Mall | Galeries Lafayette Dubai | Sowwah Mall Abu Dhabi | Galleria Mall Abu Dhabi | Avenues Mall Kuwait| City Stars Mall Egypt
www.longchamp.com | www.facebook.com/Longchamp.mena | #MademoiselleLongchamp
---