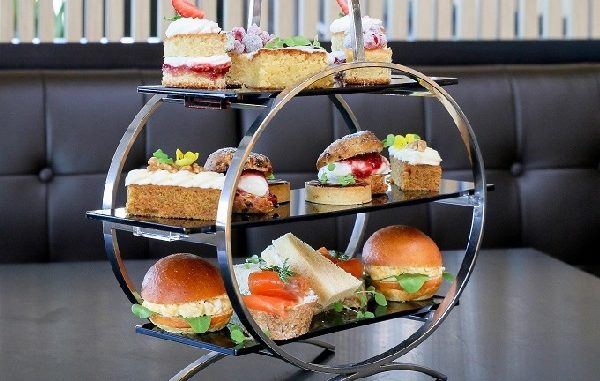 ---

Thanani, Ajman's modern European style restaurant with an Arabic influence, serves a Sweet-Savoury breakfast, followed by a British-inspired Afternoon Tea with a Thanani twist since November 2017.
Complement the crisp evenings with the freshest ingredients at Thanani, which offers the best of international and locally-sourced regional produce, ensuring every single ingredient is both fresh and authentic to the style of dish.
---
Sweet-Savoury Breakfast
If you're not much of a morning person, we understand. It can be difficult to drag yourself out of bed sometimes, but Thanani's new Sweet-Savoury breakfast will make it that much easier to jump out of bed and into the day. On Tuesday November 21, Thanani launched its much-awaited breakfast offering. Running from 8 am to 11 am daily, the European-styled restaurant with an Arabic influence serves sweet and savoury breakfast and delights fresh every morning.
From Spanish churros smothered in chocolate, and French toast with lemon mascarpone and strawberry compote, to Canadian-styled pancakes with a drizzling of maple syrup and fresh berries, the sweet options are guaranteed to brighten up any morning with a second helping of indulgence. If you have an exceptionally sweet tooth, there's even breakfast chocolate cake!
The savoury options also have a distinctly European flavour with options such as Eggs Florentine – poached eggs served with Hollandaise sauce and spinach – or you can embrace your inner King or Queen with Eggs Royale, and add salmon to your poached eggs. French favourites, the
Croque Monsieur
and
Croque Madame
, are complemented by options such as the classic full English breakfast, and the breakfast baguette stuffed with veal sausage, egg, mushroom and tomato, while the roasted pumpkin layered with feta and Emmental cheese on toast, or the smoked lamb ragu with fried egg on toast offer deliciously healthy options.
Get off to a great start and begin each morning with Thanani's Sweet-Savoury breakfast.
---
Afternoon Tea
The restaurants and tea-houses of London have long been associated with convivial conversations over great food, indulgent sweet treats and of course a cup of high-quality brewed tea. Now Thanani offers this British tradition in Ajman with an English-inspired Afternoon Tea with a twist from 3 pm to 7 pm daily since November 14.
Whether you would like to keep it healthy after Thanani's sweet breakfast, or think you deserve a little nibble of the sweeter side of life, Thanani's Afternoon Tea offers a wide array of choices, from selections of sandwiches and wraps, to doughy delights topped with fresh fruits and sugar.
Catch up with old friends over a long and lazy afternoon on Thanani's terrace overlooking Ajman's mangrove forests, the creek, and Al Zorah Golf Course, and learn from the residents of London that the most important part of the day is making time for friends, family, and a little indulgence. After all, life is about enjoyment!
---
Thanani Sweet-Savoury breakfast is served daily between 8 am and 11 am
Thanani Restaurant is also open from 12 pm to 12 am Saturday through Wednesday
and 1 pm to 1 am on Thursday and Friday.
For reservations or enquiries, please call +971 6 573 3109 or email reservations@thanani.com
www.thanani.com
---