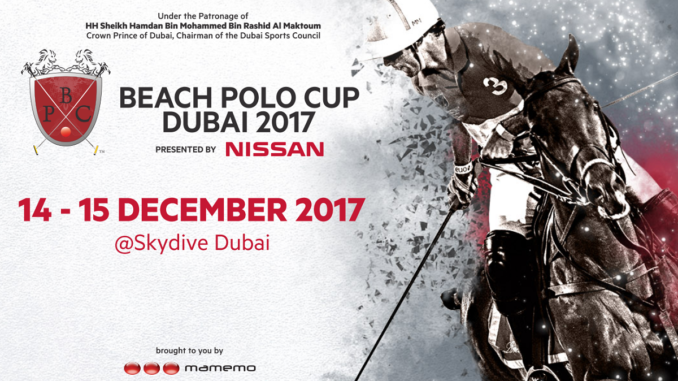 ---

The Beach Polo Cup Dubai 2017 is less than two-weeks away
Meet the dynamic dozen… Twelve local and international polo players have been confirmed for Dubai's last major sporting and lifestyle event of the year – the Beach Polo Cup Dubai 2017 presented by Nissan, taking place at Skydive Dubai on 14 and 15 December.
[ngg_images source="galleries" container_ids="40″ display_type="photocrati-nextgen_basic_slideshow" gallery_width="700″ gallery_height="394″ cycle_effect="fade" cycle_interval="3″ show_thumbnail_link="0″ thumbnail_link_text="[Show thumbnails]" slug="beach-polo-cup-dubai-2017″ order_by="sortorder" order_direction="ASC" returns="included" maximum_entity_count="500″]Held under the Patronage of HH Sheikh Hamdan bin Mohammed bin Rashid Al Maktoum, Crown Prince of Dubai and Chairman of Dubai Sports Council, the Beach Polo Cup Dubai 2017 presented by Nissan will showcase a superstar mix of polo professionals.
---
Stellar player line-up confirmed
The Argentinian players line-up for this year's "Sport of Kings" includes Matias Machado, who has led the winning team to victory in the last two tournaments, as well as fellow countrymen Maxi Malacalza, Lucas Labat and Juan Jose Storni, who is making his debut in Dubai this year.
The hotly-tipped Nissan LEAF team, will feature Emirati patrons, Tariq Albwardy who will play alongside his brother and team member, Rashid Albwardy, both of whom are influential figures in the Emirati and international polo scene. Another addition to this team will be Argentinian professional, Matias Machado, from the Desert Palm Polo Club.
The Royal Pearls team includes the international polo stalwart and European Director for the FIP, Dr. Piero Dillier, Moritz Gaedecke – German Ambassador of FIP – and polo professional Lucas Labat.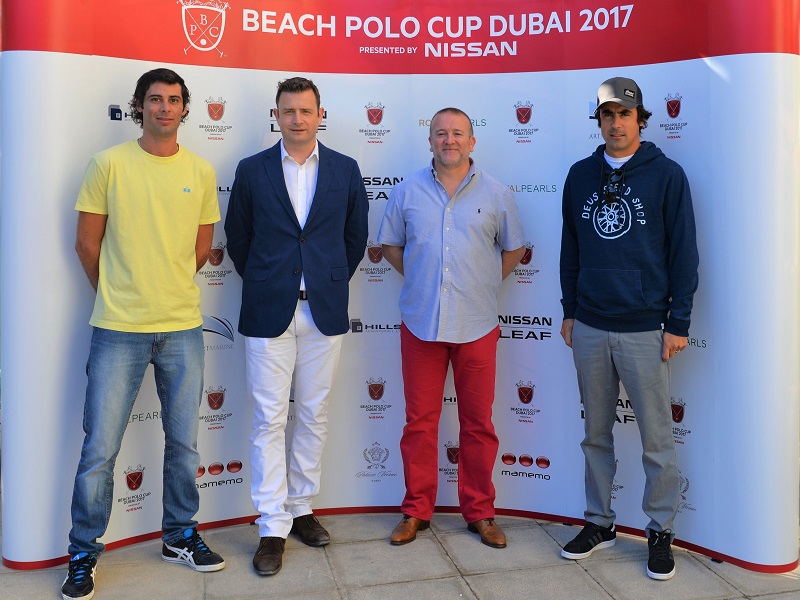 Hills Advertising team sees patrons Sam Instone and Jan Bladen supporting Argentinian Juan Jose Storni in his first appearance at the Beach Polo Cup Dubai 2017.
Finally, the Artmarine team includes patrons, Ayaad Damouni and Rashed Al Sayegh, as well as Argentina's Maxi Malacalza, a long-time supporter of the Beach Polo Cup Dubai 2017.
"With the skill and passion these players bring to the game this year, the Beach Polo Cup Dubai 2017 presented by Nissan promises to be even more fiercely contested than any edition to date," said Gaby Katiela, Tournament and Event Director. "The 2017 title race is wide open and each team member will bring their A-Game".
---
Tickets on sale now!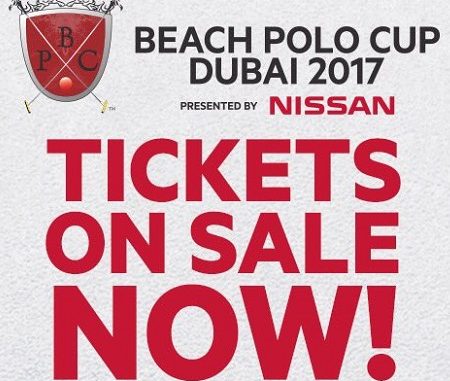 The two-day Beach Polo Cup Dubai 2017 presented by Nissan spectacle will take place on December 14 and 15 December, at the outstanding, purpose-built polo venue at Skydive Dubai.
This year's "Game of Kings" will be played on a Thursday and Friday evening, so spectators can wear their finest attire and mingle with international celebrities under the stars at Dubai's exclusive "Polo by Night".
For the first time, the Beach Polo Cup Dubai 2017 presented by Nissan has limited tickets available in the VIP Majlis Zone at AED 700 per person, which includes event entry, high table seating and unlimited food and beverages.
This year's event will have a greater capacity for spectators, with tickets available for the popular Shams Zone at AED 60 per person, including entry to the event and free seating with Food & Beverage cash bars available.
Live DJs will keep you entertained throughout the event, with the vibrant festivities continuing until the early hours.
Visit www.beachpolocup.com or www.platinumlist.net for more details.
---