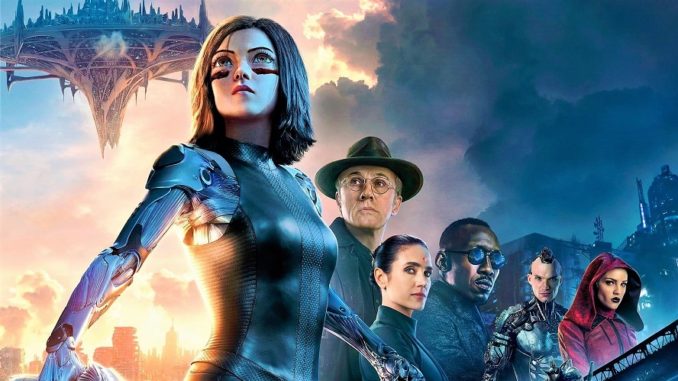 ---
Alita: Battle Angel, releasing across the UAE on Feb. 14th, 2019
Alita: Battle Angel is the epic action-adventure from producers James Cameron and Jon Landau (AVATAR and TITANIC) and director Robert Rodriguez (SIN CITY) releasing in UAE cinemas on 14th February. The visionary filmmakers have created a ground-breaking new heroine in Alita: Battle Angel, an action-packed story of hope, love and empowerment.
Alita: Battle Angel is based on the graphic novel ("Manga") series "GUNNM" by Yukito Kishiro. James Cameron became a fan of the manga and spent years developing the material as a directing project for himself. When Cameron's focus turned towards developing the original Avatar sequels, Cameron brought in Rodriguez to condense and combine his 186-page screenplay and some 600 pages of notes into what could be the shooting script.
Speaking about how he initially wanted to direct Alita: Battle Angel, Cameron said "Then I thought, am I really ready to give up my baby? So, I said, if you can crack the code and you want to do it, let's do it." Satisfied by Rodriguez's work on the shooting script, Cameron offered Rodriguez the directing job however was still heavily involved as a writer and producer.
---
Alita: Battle Angel | Who is Alita?
Set several centuries in the future, the abandoned Alita (Rosa Salazar) is found in the scrapyard of Iron City by Ido (Christoph Waltz), a compassionate cyber-doctor who takes the unconscious cyborg Alita to his clinic. When Alita awakens she has no memory of who she is, nor does she have any recognition of the world she finds herself in.
Everything is new to Alita, every experience a first. As she learns to navigate her new life and the treacherous streets of Iron City, Ido tries to shield Alita from her mysterious past while her street-smart new friend, Hugo (Keean Johnson), offers instead to help trigger her memories.
A growing affection develops between the two until deadly forces come after Alita and threaten her newfound relationships. It is then that Alita discovers she has extraordinary fighting abilities that could be used to save the friends and family she's grown to love. Determined to uncover the truth behind her origin, Alita sets out on a journey that will lead her to take on the injustices of this dark, corrupt world, and discover that one young woman can change the world in which she lives.
---
Alita: Battle Angel | Brutal world yet very soft-centered character
"Alita's story is really about that juxtaposition of that really hard-edged action and this really brutal world with this very soft-centered character who's also tough as steel," Cameron said.
Alita: Battle Angel also stars Jennifer Connelly, Mahershala Ali, Ed Skrein, and Jackie Earle Haley, having been shot entirely in native 3D, it is a true vision of the future.
Weta Digital were responsible for the visual effects as the film conquers new VFX frontiers bringing the most epic and action-packed scenes to life. Founded by Peter Jackson, Richard Taylor, and Jamie Selkirk in 1993, Weta Digital have created some of the most memorable characters and worlds of the last twenty years. Weta Digital has won six Academy Awards for Best Visual Effects: including the Lord of the Rings trilogy, King Kong, Avatar and The Jungle Book.
Co-writing and performing the single "Swan Song" for Alita: Battle Angel is global pop singing sensation and 2019 double Grammy nominee Dua Lipa. Speaking of Dua Lipa, Landau said "She has the kick-ass strength, power and attitude in her performances that Alita embodies in the movie. Jim, Robert and I are thrilled to have her onboard and are confident she will make 'Swan Song' the perfect inspiring and empowering anthem for our film."
Alita: Battle Angel releases across cinemas in the UAE in 3D, IMAX, 4D and Dolby Cinema on the 14th February 2019.
---
Alita: Battle Angel – Across the UAE – February 14, 2019
DIRECTED BY Robert Rodriguez
SCREENPLAY BY James Cameron and Laeta Kalogridis
BASED ON THE GRAPHIC NOVEL ("MANGA") SERIES "Gunnm" By Yukito Kishiro
PRODUCED BY James Cameron and Jon Landau
CAST Rosa Salazar, Christoph Waltz, Jennifer Connelly, Mahershala Ali, Ed Skrein, Jackie Earle Haley, Keean Johnson
---