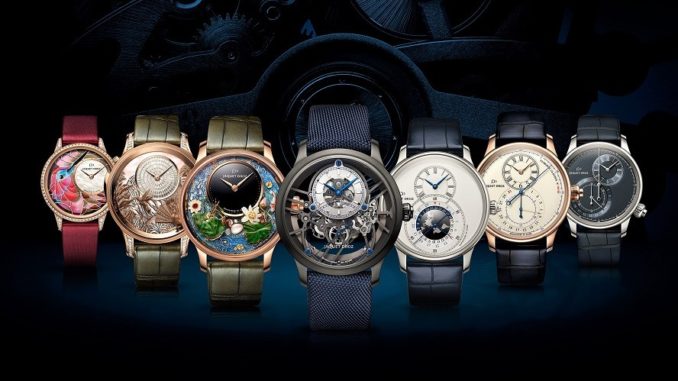 ---
Switzerland's luxury watch, brand Jaquet Droz along with Rivoli Group revealed their 2019 Novelties to the UAE at their Jaquet Droz boutique in the Dubai Mall, inviting connoisseurs, collectors and watch aficionados from the Middle East to explore and discover the watchmaking expertise, artistic sense and creativity of the brand.
Cultivating the spirit of the art of astonishment, the Ateliers of Haute Horlogerie from La Chaux-de-Fonds gave pride of place to Grande Seconde collections, Automata or Ateliers d'Art through creations that delighted connoisseurs and fine watchmaking enthusiasts who had opportunity to enjoy and view up-close and personal the latest timepieces.
---
Christian Lattmann, CEO of Jaquet Droz commented,

With more than 280 years of legend combined with exquisite craftsmanship and history, we are confident Jaquet Droz 2019 new timepieces will be a delight for UAE customers.

Our timepieces have always been inspired by nature, which is very great source of inspiration, for painting and engraving along with mysteries of the universe and its infinite possibilities.
The main highlights of Jaquet Droz 2019 timepiece collections were the new horological masterpieces – Magic Lotus Automaton and Grande Seconde Chronograph.
---
Magic Lotus Automaton
The new Magic Lotus Automaton invites meditation and contemplation in an animated Zen garden. Fauna and flora come to life in breathtaking detail in this luxurious showcase of artisanal techniques.
An ode to life and perpetual new beginnings, the new Magic Lotus Automaton is an unprecedented animation for Jaquet Droz. A new development that was designed and assembled in house, this automaton features an exceptionally long animation that runs to more than four minutes. In this time a naturalist fresco unfolds with all the grace and serene beauty of a Zen garden.
---
Grande Seconde Chronograph
It was one of the few complications yet to grace the Grande Seconde. Now the monopusher chronograph makes its grand entrance into the Jaquet Droz collection, equipped with an exclusive movement. An inaugural, limited series piece is complemented by three permanent additions to the collection.
The Jaquet Droz 2019 novelties would be touring across the globe post the unveiling in Dubai, United Arab Emirates. The timepieces are expected to travel next to Japan followed by China, Hong Kong, Malaysia, United States of America and Australia.
For more information, please visit www.jaquet-droz.com
---