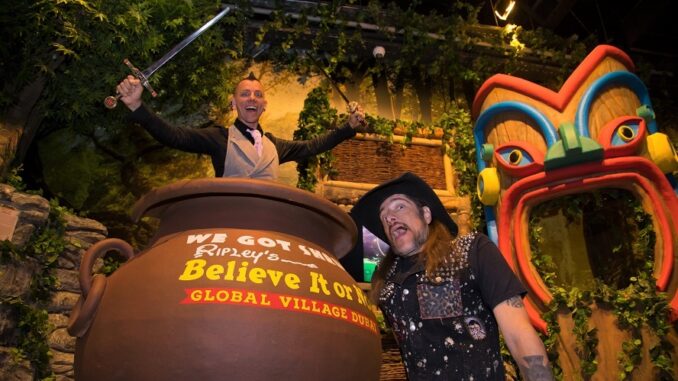 ---
Global Village celebrates the Silver Jubilee as Season 25 gets underway
Global Village, the UAE and wider region's leading multicultural family destination for culture, shopping, attractions and entertainment, is re-opening its doors to guests from across the UAE and beyond as the Silver Jubilee Season 25 celebrations officially begin today.
Preparations ahead of the Silver Jubilee anniversary have gone as planned, to ensure an unmatchable experience for the guests at the leading outdoor family destination. This season will take guests on a 25-week journey chock-full of exciting adventures.
---
Bader Anwahi, Chief Executive Officer, Global Village, said:

Bader Anwahi – Global Village CEO

We have been working around the clock over recent months to ensure this historic season delights our guests. Over the last quarter of a century, the profile and popularity of Global Village have continued to evolve, resulting in a loyal following at home and abroad.

We are delighted to open our gates to the world for this milestone season and invite friends old and new to join us for the celebration.

The incredible support we have received from our valued stakeholders, partners, staff and guests have led us to this very special moment and we are grateful for the opportunity to share it with our many patrons.

I am so proud of how our team has injected elements of fun into the exceptional precautionary measures that we have implemented.

This is an extraordinary year and we are confident that our improved customer experience together with the many exciting new offerings will make it one to remember.
New cultural experience is at the root of the Global Village offering and once again, in Season 25 guests can explore the unique treasures and delicacies from 78 different cultures across the park. Each of the 26 pavilions propose unique experiences via a multitude of boutiques, food outlets, exhibits and entertainment. This season, Russia, and Cambodia & Vietnam pavilions join the Global Village family.
---
78 cultures represented this season in 26 pavilions and 3,500+ outlets
Mouthwatering dining experiences with 200+ restaurants, cafes and street food outlets
The Season 25 entertainment lineup consists of new main stage shows, kids shows, cultural shows, street entertainment and a brand-new stunt show
The Carnaval is home to 160+ exhilarating rides, skill games, arcade games and thrilling attractions
Ripley's Believe It or Not!® museum returns with 100+ fascinating new exhibits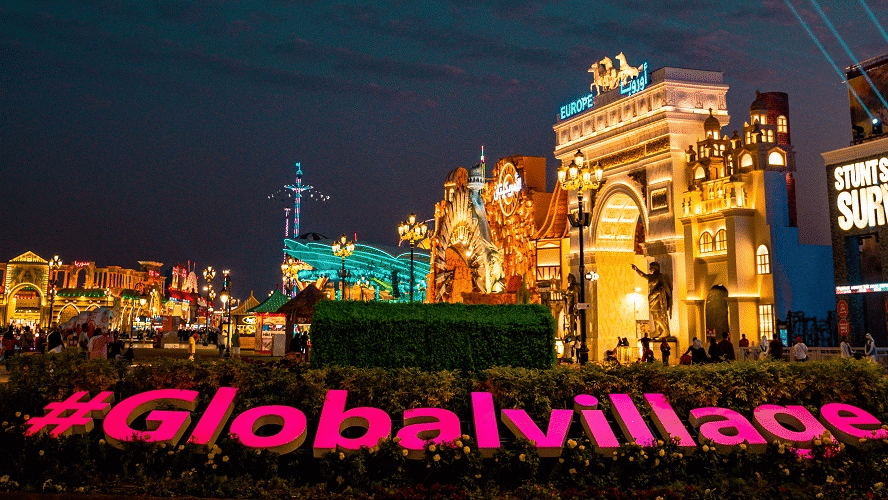 ---
View also
---
Explore 100+ new additions to Ripley's Believe It or Not!® museum attraction
Audiences were thrilled in Season 24 as the world-famous Ripley's Believe It or Not!® museum attraction made its MENA region's debut at Global Village. This year, the edutainment showpiece is returning, once again bringing the world's most remarkable collection of natural, scientific, artistic, and human oddities, artefacts and exhibits to the six astonishing galleries. New to the "Human Oddities" gallery is the Willard Wigan Display, which showcases some of the smallest handmade artworks and masterpieces in history. The "Magical Studio" gallery is now home to horror-themed old-age prison cell exhibits sure to attract attention and curiosity. The ever-popular "Marvelous Mirror Maze" has also been upgraded for newfound levels of illusion.
---
Experience Carnaval thrills
The hugely popular Carnaval is back with new attractions and rides sure to leave guests in awe. The Global Village mainstay is now home to more than 30 exhilarating kids, family and thrill rides, as well as dozens of skill games and no fewer than 100 arcade games. One of the latest attractions to grace the Carnaval is the thrill ride "Manila Mayhem", the Italian made, reverse time ride, which hovers seven meters above ground with a 360-degree rotation at 20 revolutions per minute.
---
Taste the finest foods from every continent
Culinary delights have always come to life in previous editions of Global Village and Season 25 is no different as the finest and rarest flavours and dishes from around the world are available across the park. In total, there are 19 restaurants and four cafes to choose from this season, with the newest additions to the Global Village restaurant scene including Georgian, Syrian, American and South African cuisines.
Street food fans are set for another great season with more than 170 kiosks and trolleys of the most culturally diverse culinary delights in the region.
---
Revel in a world full of entertainment
Global Village's entertainment calendar has always been a standout attraction that draws millions guests to the park. This year, the main stage provides seating for guests to enjoy the lineup of traditional and contemporary anchor shows. Urban Crew is returning with their brand new show "HIT" featuring unbelievable tricks, stunts, flips and acrobatics. "StreetJam" will delight the cool kids as this talented all-female dance crew rock the main stage with pumping tracks and special effects. "Auto Angels" is a tongue in cheek nod to the groovy 70's featuring Vegas-style illusions and a soundtrack as big the hair and flares. "Slumber Tales" will delight the little ones as they are taken on a fantastic Arabian adventure. This year's Bollywood spectacular brings guests on a journey of movie-making magic.
The Kids theatre will be home to a host of character shows including newcomers Peter Rabbit, the Octonauts, and the Care Bears who will join current favourites Chotta Bheem, PJ Masks and Ben & Holly. Kids will also love the brand new "Don't Do the Dodo" based on the popular children's book "The Curious Tale of the Dodo". The fun-filled Kids' Theatre will also host the team from Green Planet every Saturday and Monday of the season for a fun and educational presentation of exotic live animals including an Ant-eater, a Tarantula, a Giant Turtle, and a Python.
The largest Street entertainment lineup in the region returns with new additions, Living Lamp-Posts, Retro Rocket, Global Village Knights and The Rolling Tones joining long-time favourites Man in a Bin, Super Helpful Heroes, Gorilla in a Cage and Ollie the Ostrich.
The brand new stunt show completes the exciting entertainment line-up with a production that will keep guests on the edge of their seats. Ace detectives, Abby Marshall and Frank Adams, from the North Rapids Police Department set up a sting operation to foil a gang of ruthless cyber criminals… but it doesn't go exactly to plan! With high-speed Police car chases, fire-fights, precision driving, back-flipping bikes, explosions and high falls, will the NRPD win the day? Will the hackers be brought to justice? See the spectacular "Mission Speed" to find out.
---
A World of Wonders
As always, Global Village will present unique shopping experiences, exciting attractions, mouthwatering cuisine and a host of live shows and events. First up is the Season 25 opening concert on 30th October as Rockin'1000, the biggest rock band on earth, headline the largest virtual rock show in history. In partnership with Arabian Radio Network (ARN), Emirates and the Jumeirah Beach Hotel the event will be streamed on the Global Village Main Stage as 2,500 singers and musicians from 80+ countries perform for the whole world. The event will also be live streamed on Global Village's YouTube channel so fans from around the world can join for this historic event.
More comfort and safety measures than ever before are also in place as the park operates under "new normal" standards. Guest comfort and wellbeing have always been a top priority at Global Village, and a host of enhanced practices have been implemented to ensure everybody can explore the park with peace of mind. As expected, social distancing will be in effect across the park, and seating has been introduced in front of the Main Stage to ensure requisite guidelines can be easily respected. All guests and staff will be wearing face coverings and Global Village has designed complimentary face masks for kids to make sure their mask is part of the fun. Thermal screening will be in operation at all entry points and more than 600 hand sanitiser stations have been installed across the entire Park. From Carnaval fun to rickshaw trips, disinfection procedures will be in place after every ride. The cleaning schedule frequency has also been significantly increased and full disinfection of all facilities will take place after the daily closure of the park. Global Village has partnered with ShieldMe, the market-leading sanitization product provider to ensure maximum protection for their staff and guests.
---
Global Village has also introduced a brand new app and mobile website for easy online ticket purchase and improved in-park guest experience. In addition, for guests who prefer contactless payment options, Global Village has introduced GVPay by Noqodi which will enable diners and shoppers to pay with their smart phones at all outlets.
For Season 25, park hours will be opening early on Saturdays welcoming guests from 2pm until 11pm. Sundays to Wednesdays from 4 pm to midnight, with entry gates closing at 11.30 pm. On Thursday, Friday, and all public holidays, opening hours are 4 pm until 1 am, with entry permitted until 12.30 am. Monday will still be reserved as a Family Day except for public holidays.
For more information, please visit: www.globalvillage.ae or download the Global Village App.
Instagram: @globalvillageuae
Twitter: @GlobalVillageAE
Facebook: www.facebook.com/GlobalVillageAE
---