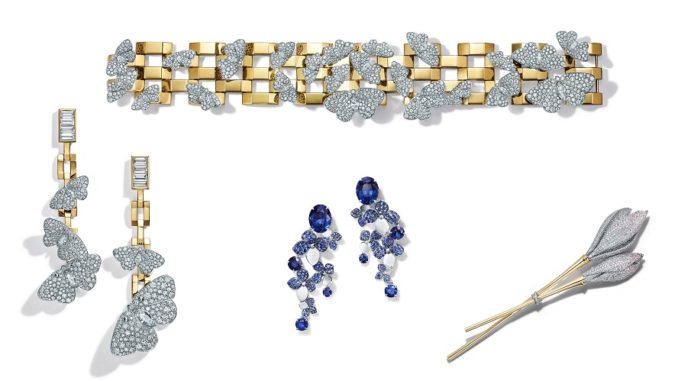 ---
Tiffany & Co. unveils its 2018 Blue Book Collection: The Four Seasons of Tiffany, a bold expression of creativity, craftsmanship and innovation. Composed of five themes—winter, spring, summer, autumn and color theory—the Tiffany Blue Book Collection 2018, the new high jewelry collection, draws inspiration from flora, fauna and the architectural complexity found in nature.

With modern and graphic shapes rendered with rare techniques and exceptional gemstones, the Tiffany Blue Book Collection 2018 is a discovery of the unexpected. Each piece is a unique creation where visionary designs and the time-honored talent of Tiffany artisans combine to create extravagant jewels that evoke dreams and defy possibilities.
"The Tiffany Blue Book Collection 2018 serves as a laboratory for developing groundbreaking concepts that will one day make their way into new collections. It's where our most creative, experimental and innovative ideas begin," says Reed Krakoff, chief artistic officer, Tiffany & Co.
---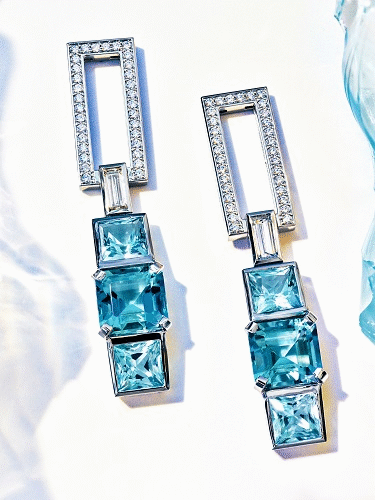 Within the winter theme is one of the most exemplary designs, the never-before-seen ice motif, which required the most skilled craftsmen to study the beauty of irregularity and render it in diamonds.
The illusion of ice was achieved by individually cutting each diamond into jagged, unique shapes that mimic an iceberg adrift on a sea of platinum. A magnificent yet delicate necklace is composed of over 91 total carats of 237 uniquely cut diamonds that connect like an intricate puzzle.
"The idea of ice was more a suggestion of irregularity and the seamlessness of ice when it's cracked and broken. We wanted to suggest the idea of these things rather than creating a representation of them," says Krakoff, of the design process.
Another study in contrast and irregularity is a necklace of linear diamonds set in platinum that's made to look like frost.
Created with baguette and round brilliant diamonds, over 50 total carats, and rare Fancy Blue Gray and gray diamonds, over 13 total carats—this necklace is a textural display of bold geometry.
---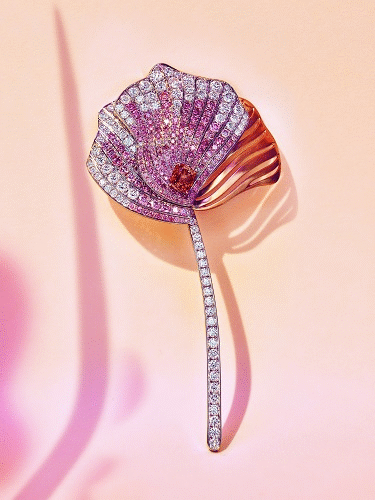 The spring theme builds on the randomness and asymmetrical beauty of the natural world.
The hydrangea designs reveal an intricate clustering of flowers, where groupings are off-centered and mixed-cut diamonds juxtaposed with multi-hue sapphires, tourmalines and tanzanites to create an ombre effect.
In summer, the soft, fluttery diamond encrusted moths contrast against the bold, angular links and inspired by a 1940s tank chain.
An 18k yellow gold bracelet anchors different size moths that appear to be in flight or landing, allowing the natural pattern and movement of these creatures to give this classic chain a modern update.
The brilliance of these playful moths was created with 1,115 round brilliant diamonds of over 6 carats and 23 marquise diamonds set in platinum.
---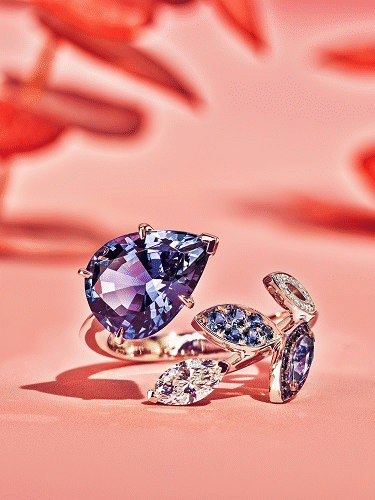 Autumn reveals a lightness and interplay of gemstone colors and cuts. Vines that sprout and blossom in tandem with nature's cycle can be seen in a stunning necklace where overlapping chains reveal a fern motif that emerges and gently unwinds down the back.
This necklace's elegant silhouette creates a fluid line with mixed-cut diamonds is set in platinum, including 9 marquise diamonds, over 5 total carats, 333 round brilliant diamonds, over 5 total carats, and 85 diamond baguettes, over 21 total carats.
Equally impressive is the large and exquisite Melo Melo pearl of over 109 carats suspended from a custom-cut and round brilliant diamond twisted necklace set in platinum.
The chain tightens its twist upon reaching the pearl and appears to elegantly unravel around the neck. Of key importance to this pearl is that the color remains orange over the entire surface.
---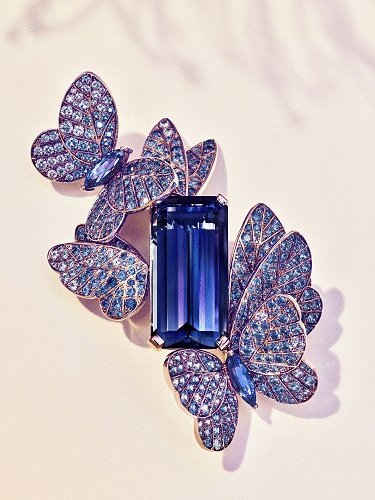 The Tiffany Blue Book Collection 2018 is brought full circle with the color theory theme, where color gradation ranges from intensely saturated colored gemstones to white diamonds.
Capturing the subtle shift in palette of the four seasons theme, the designs echo a Pantone® color wheel and symbolize Tiffany's heritage of sourcing the world's rarest diamonds and colored gemstones of unsurpassed quality and beauty.
The utmost precision and attention to detail are required to express the simplicity and complexity of nature, from the range of tonalities and intricate geometry to the masterful artistry of high jewelry.
The Tiffany Blue Book Collection 2018 embodies Tiffany's passion for elevating the beauty of nature and reinterpreting it through the unparalleled craftsmanship that has defined the jewelry house since 1837.
---
About Tiffany & Co.
In 1837, Charles Lewis Tiffany founded his company in New York City where his store was soon acclaimed as the palace of jewels for its exceptional gemstones. Since then, TIFFANY & CO. has become synonymous with elegance, innovative design, fine craftsmanship and creative excellence. During the 20th century its fame thrived worldwide with store network expansion and continuous cultural relevance, as exemplified by Truman Capote's Breakfast at Tiffany's and the film starring Audrey Hepburn.
Today, with more than 13,000 employees, TIFFANY & CO. and its subsidiaries design, manufacture and market jewelry, watches and luxury accessories – including more than 5,000 skilled artisans who cut diamonds and craft jewelry in the Company's workshops, realizing its commitment to superlative quality.
The Company operates more than 300 TIFFANY & CO. retail stores worldwide as part of its omni-channel approach. To learn more about TIFFANY & CO. as well as its commitment to sustainability, please visit tiffany.com.
Tiffany, Tiffany & Co. and T&CO. are trademarks of Tiffany and Company and its affiliates.
---