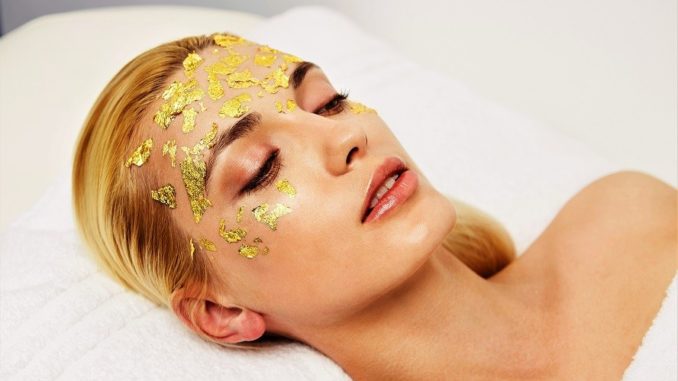 ---
An elevated Qua Spa Caesars experience
Located on Dubai's newest island oasis, Qua Spa is within Caesars Palace Bluewaters Dubai, the first ever non-gaming resort from the legendary Caesars brand. Unlike anything the Middle East has seen before, guests can expect a truly immersive encounter with a hotel group known around the globe for its fun approach to luxury. In a city full of promises, Caesars Bluewaters Dubai has one – every guest will live like a Caesar from the moment they step through the doors.
To celebrate the launch of Qua Spa Caesars Bluewaters Dubai,
guests are invited to experience a complimentary 30-minute Iyashi Dome session
until 10th February 2019 by calling to book on +971 4 556 6666
Starting with some serious pampering, relaxation is paramount at Qua Spa where an elevated spa experience lifts guests above the realm of modern-day stresses and transports them to a one-stop destination for wellbeing and beauty. Qua Spa is designed as a sanctuary fit for royalty, taking a holistic approach to enhance emotional and physical balance centered around five elements for perfect 'Qi' or energy.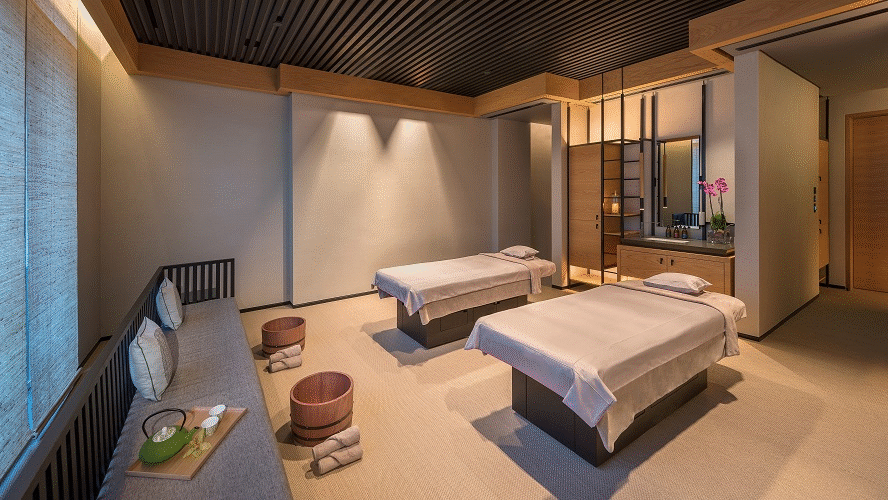 Boasting eight treatment rooms including two rooms for couples, signature facial and massage treatments, relaxation lounge and male and female facilities with rock saunas, aroma steam rooms, experience showers and ice fountains – Qua Spa Caesars Bluewaters Dubai offers an intimate spa experience like no other.
View also
---
The Iyashi Dome
Burning 600 calories per session
Debuting in Dubai for the first time is the unique Iyashi Dome, a treatment device exclusive to Qua Spa at Caesars Palace Bluewaters Dubai. Inspired by traditional Japanese practice, 'Suna Ryoho' – where the locals bury themselves in the sand near hot springs on the beach to eliminate toxins – it uses cutting-edge technology to deeply cleanse the body, restore its balance and gain efficient and long-lasting slimming effects.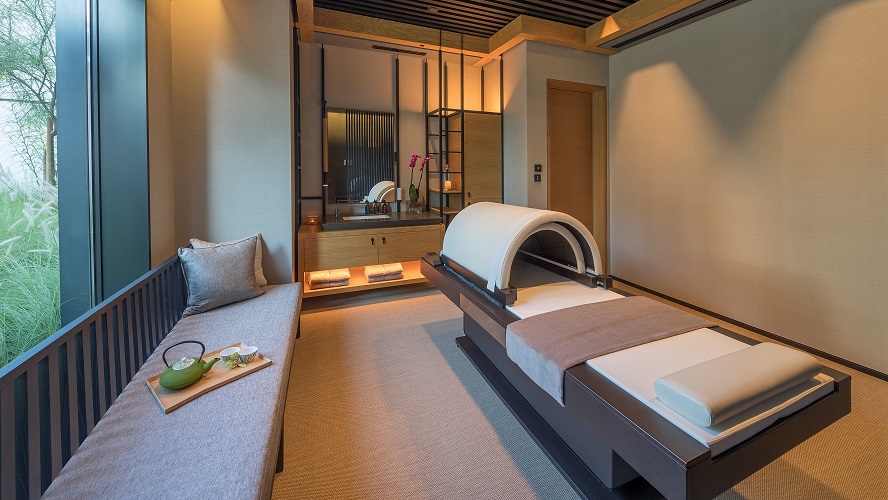 Lasting 30-60 minutes, the patented Black Carbon technology stimulates the body with long-wave infrared rays eliminating up to 1200 ml of water and unwanted toxins, burning up to 600 calories per session. Positive side effects such as weight loss and the reduction of cellulite, improvement of the skin quality and anti-aging – make it a must try for wellness connoisseurs looking for a serious detox.
---
The Psammo Concept Quartz Bed
Tension-busting modern sand therapy
Based on hot sand therapy originally used in Ancient Egypt to treat medical ailments, Qua Spa's groundbreaking Psammo Concept Quartz Bed is derived from the age-old concept of thermal therapy for mental and physical relaxation.
Created by The Gharieni Group, the quartz sand bed treatment offers spa goers the chance to experience something truly special. Integrating the multiple benefits of sand therapy, aromatherapy, inversion therapy and wave-like massage – this is the ultimate in luxury in a city well versed in five-star treatments.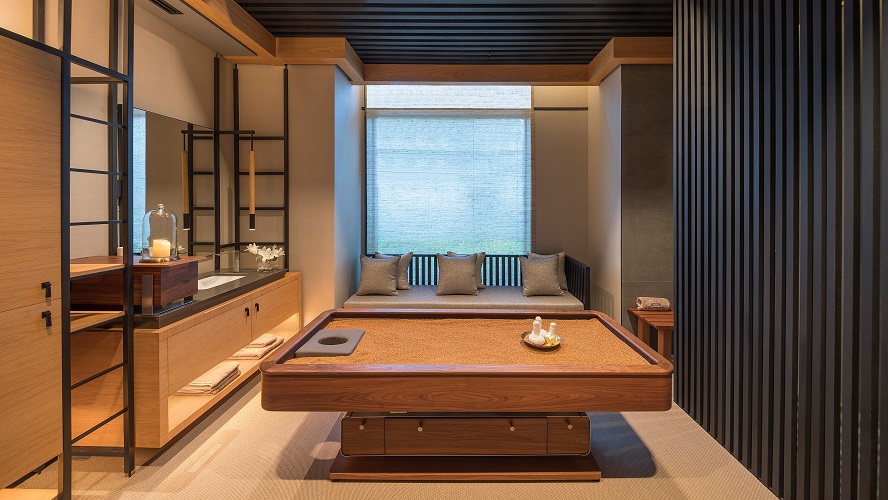 Available as a stand alone treatment, or integrated into a number of stimulating body therapies ranging from hot stones, singing bowls, wrapping treatments and exfoliating scrubs, Qua Spa guests can design their own quartz bed experience. Once reclined, sand contours the body alleviating any discomfort by creating a cocoon effect and surrounding the limbs with a warm heat at optimal temperature to impart the full benefits.
One session lasts for 60 minutes in the Warm Quartz Bed followed by a 30 minute Body Herbal Compress and Body Massage combined with Arabian Herbal compress of Frankincense and Cedarwood massage and applications of a spicy muscle balm to melt physical and emotional tension.
---
Carol Joy London
Leading facial technology showcased in Dubai for the first time ever
Another Qua Spa signature is its partnership with British beauty pioneer Carol Joy London, whose quest for ageless beauty has made her a firm favourite with the world's experts in facial wellness.
Known for discovering the potent power of combining clinically proven Pure Triple-Action Collagen and Refined Golden Millet Oil to achieve instant and transformational results, Carol Joy London products are used at Qua Spa for all facial treatments.
The first of its kind in Dubai, the signature Ladies Collection Facial with Caviar Repair, Golden Glow and Collagen Lift is not to be missed. Qua Spa guests will also have the chance to try luxury brands Elemental Herbology and Gentleman's Tonic.
---
Fitness at Qua Spa
Mapping out a new direction for movement on Dubai's hottest island retreat
Also located at Qua Spa at Caesars Palace Bluewaters Dubai, the 24-hour Fitness Gallery is kitted out with the latest TechnoGym equipment, with personal trainers on hand to maximize workouts.
For those that want to take training outdoors, Qua Spa offers a series of AquaFit sessions. Taking place at Caesars Resort Bluewaters Dubai main pool and private beach, AquaFit classes include AquaBike, AquaTreadmill, AquaTrampoline, AquaPole and AquaMat – meaning guests can bounce, bend and twist their way to better health under water.
Adding an extra element to work outs, helping to absorb shock for muscles and delivering extra resistance and balance with the extra component of sheer fun factor.
---