---
Bab Al Shams Desert Resort & Spa returns magical desert brunches with two luxurious offerings starting from September 27th. The luxury desert retreat offers the Friday Garden Brunch and the 360° Nature Brunch, catering to everyone including families and guests of all ages, starting from AED 225.
Set at the heat of rolling sand dunes and surrounded by natural desert landscape, Bab Al Shams creates the ideal atmosphere for an unparalleled weekend in a beautiful ambiance with exquisite cuisine.
---
Friday Garden Brunch
Guests are invited to experience the ultimate family brunch set in the lush green gardens of Al Forsan, with exciting activities for everyone. Diners can enjoy indoor and outdoor live cooking stations, sections of organic and healthy spreads, free flowing beverages, as well as a special beautiful buffet laid out for the little ones.
Parents can relax to the tunes of live entertainment, while kids have fun with activities such as face painting, a petting zoo, a bouncing castle as well as camel and pony riding. Magicians and jugglers will also be present to entertain both kids and adults.
Friday, from 27th September
Timing: 1.00pm – 4.00pm
AED 365.00 per person inclusive of soft drinks, water and selection of fresh juices
AED 545.00 per person inclusive of selected alcoholic beverages
AED 182.50 for children between 6 to 12 years old
Children under 6 yrs dine free
Nannies dine free (one nanny per table | t & c apply)
---
Saturday Al Forsan 360° Nature Brunch
The 360° Nature Brunch features a twist on the typical brunch experience, offering a beautiful picnic set-up in the lush oasis gardens of Bab Al Shams.
Visitors can expect world class cuisine, live entertainment and an array of fun activities. Parents can dine and enjoy the relaxing atmosphere with live music by DJ Angela, while kids get busy with games, pony and camel rides, and bouncing castles.
Saturday, from 28th September
Timing: 1.00pm – 4.00pm
AED 225 inclusive of soft beverages and bottled local water
Kids from 6 – 12 years are given a special discount of 50%
Children under 6 years dine free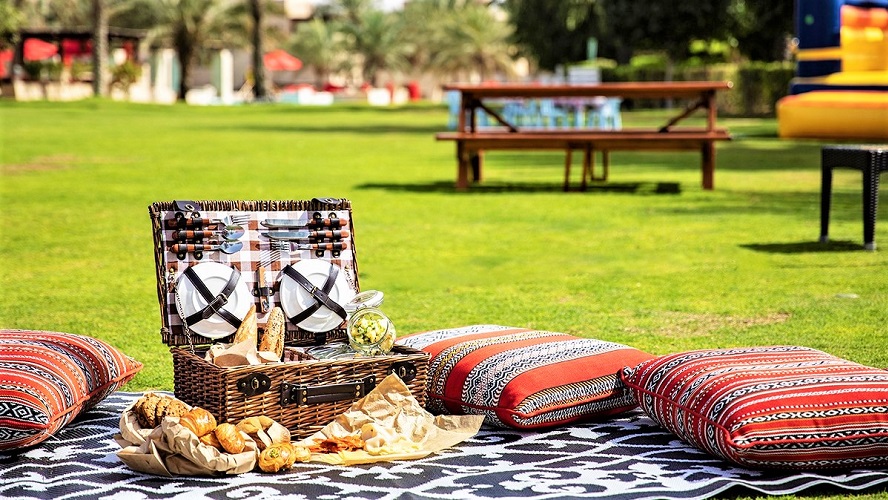 For more information on brunches at Bab Al Shams, please visit babalshams.com/brunch. To make reservations kindly call +971 4 809 6194 or e-mail BAS.info@meydanhotels.com
---