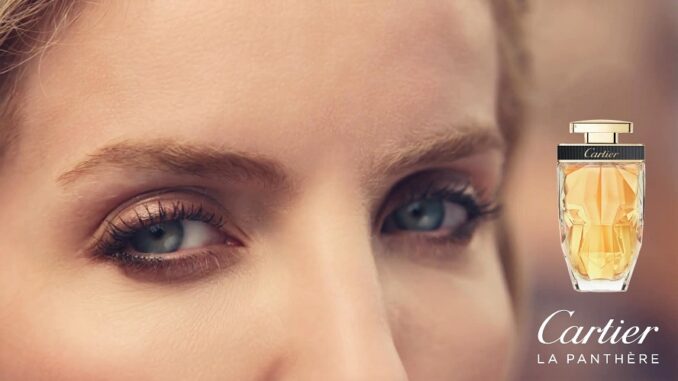 ---
La Panthère de Cartier: more feline perfume than ever
Created in 2014, the Cartier La Panthère perfume dares to revisit the legendary chypre with an innovative feline-floral accord born out of pure, mesmerizing gardenia and sensual notes of musk.
The panther waits within, the sensual heroine of a solar sillage, floral yet feral, like a love trap set by the most irresistible of creatures. Greats such as Theophrastus and Dante celebrated its scent, the most seductive in the animal kingdom.
La Panthère de Cartier perfume, designed by Mathilde Laurent who perceives perfume as a language, is based on the desire to pay homage to the panther, to its feline qualities, its agility and its sensuality. It is a new addition to La Panthère olfactory repertoire, intensifying the feline, floral accord of the original Eau de Parfum.
A wave of added warmth enhances the aura of this radiant and chic icon. The velvety gardenia with its musky sensuality is diffused and amplified with a note of apricot-colored Osmanthus.
---
View also
---
Whilst the Cartier jeweler attempts to mimic the panther's movement, the perfumer recreates its velvety aura, resulting in the same magnetism. More sensual than ever, the panther proudly makes its appearance, filled with warm tones, the royal highness of a magnetic wake.
Winning the Olfactorama prize in 2015, La Panthère by Cartier Parfum is an elegant, feline creation which Cartier expresses through the panther's faceted head, sculpted into three fragrance bottles, from 25 to 75 ml. The collection also includes La Panthère Eau de Toilette (2018).
For more information, please visit cartier.com
---
About Cartier
With royal warrants ranging from Thailand to Russia and much of Europe, it is no surprise that King Edward VII of England famously referred to Cartier as the 'jeweller of kings and the king of jewellers'.
Founded in Paris in 1847 by Louis-Francois Cartier, the firm came to dominate international jewellery design in the early 20th century under the auspices of his three enterprising sons: Louis Cartier in Paris, Pierre Cartier in New York and Jacques Cartier in London.
With a roster of visionary designers such as Charles Jacqueau and Pierre Lemarchand, and charismatic creative director Jeanne Toussaint, Cartier's designs articulated a wide range of influences into highly original and elegant jewels that defined their eras.
Their 'Tutti Frutti' pieces brought carved emeralds, rubies and sapphires adapted from Indian jewels together in riotous combination from the mid 1920s, while their opulent 'big cat' jewels draped themselves across such legendary collectors as Barbara Hutton and the Duchess of Windsor, and became the house's most beloved mascots.
Cartier continues to inspire collectors worldwide with such design classics such as 'Juste un Clou' and 'LOVE' bracelets, as well as the versatile 'Tank' range of watches, and their supremely imaginative high jewellery collections.
---