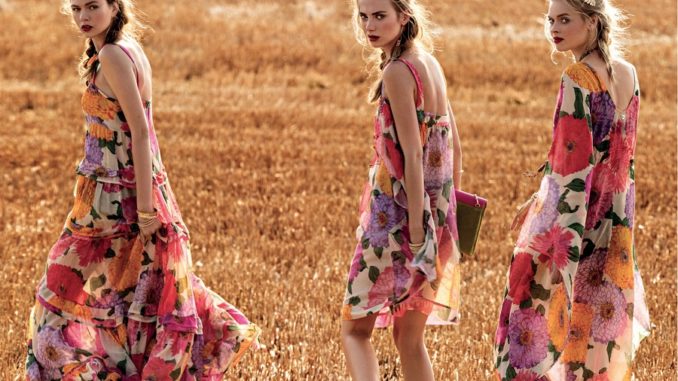 ---

The Italian brand known for the classic take on modern wardrobe essentials, has revealed yet another breathtaking campaign, the TWINSET Spring Summer 18. The brand is contemporary and abounding in inspiration and proves to be ever richer and more complete with the new collection.
The inspiration for the new TWINSET Spring Summer 18 collection intertwines the past and present, evoking the look and attitude of two style eras and representing an ideal of natural beauty that is simultaneously sensual and magnetic. TWINSET revisits the "Golden Age" with a new collection that fuses boho fashion codes of the past with modern, new and statement design touches for a new fashion-forward wardrobe.
[ngg_images source="galleries" container_ids="67″ display_type="photocrati-nextgen_basic_slideshow" gallery_width="700″ gallery_height="438″ cycle_effect="fade" cycle_interval="3″ show_thumbnail_link="0″ thumbnail_link_text="[Show thumbnails]" slug="twinset-spring-summer-18″ order_by="sortorder" order_direction="ASC" returns="included" maximum_entity_count="500″]Metallic tones of gold and silver embellish the pieces such as the classic pinstriped suit, new spotted animal prints and full sequin embroidery. Stripes vary from rainbow colours, to shiny black and gold for eveningwear and regimental motifs embellished with ruching and ruffles.
TWINSET also plays with floral prints and giant petals for SS18 with bright colours, pictorial motifs, loose fitting, flowing dresses and maxi pyjamas. Clashing colours and vibrant pattern with TWINSET's blooming florals, the SS18 collection is complemented with easy to wear pieces and flowing shapes.
The light, free aesthetic offers essential elements available in a multitude of colours, with embellishments and silhouettes to suit every occasion, from appointments in the city to cocktails at the beach.
---
Accessories include boots, strappy ankle sandals and embellished with small bows or metallic braiding and versatile bags. The campaign, instilling a savannah like feel, calming and both exciting mixes contrasting pieces to create looks almost undeniably smart and cool outfits to wear all day long!
TWINSET stores are located in The Dubai Mall, Dubai Marina Mall, Abu Dhabi Mall and Galeries Lafayette in Dubai.
For more information, please visit www.twinset.com | www.twinsetgroup.com
---