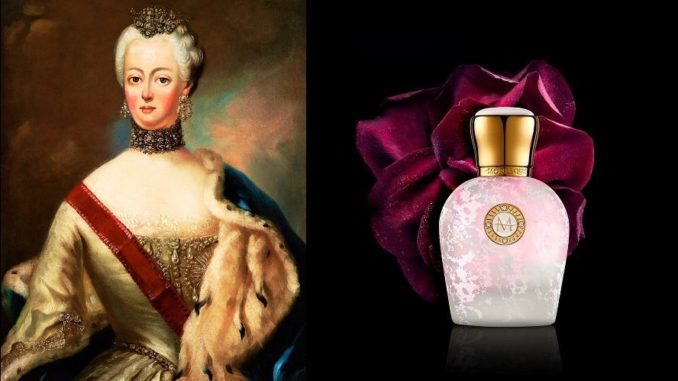 ---

Moresque Parfum pays tribute to femininity and to history through the scented portrait of a woman who has been a prominent figure in Russia in 1700. Rosa Ekaterina is a daydream, a dive in the past.
It is a window that opens onto a flowering garden; a graceful woman walks resolutely through the green paths, holding an open book in her hands, while nature blossoms around her. Moresque's latest stylistic and olfactory research gives rise to a new work of art: a jewel!
---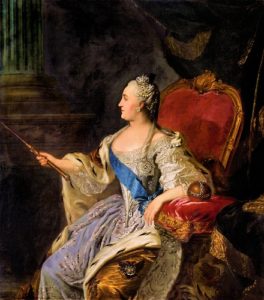 The fragrance is an olfactory homage to the Empress Ekaterina II Alekseyevna, known as Catherine the Great. The most precious rose of the Moresque garden is dedicated to this strong and charismatic woman: a rose chypre which represents Ekaterina's youth, devoted to her love for literature, for the arts and for the French philosophers.
The bouquet echoes the traits of this independent woman, so educated and refined that she was considered "a philosopher on the throne"; it interprets her persuasive and strong personality which wined the admiration of anyone approaching her. The bouquet alludes to her class, her royal poise, and to her dignified, lofty and discreet manners. And at the same time, it whispers the sensuality and passions of a woman who – ignored by her husband – let herself be surrounded by numerous lovers.
---
View also
---
With the desire to bring her story to life, Moresque's master perfumers have created a bouquet that is a freeze-frame of Ekaterina's life and that evokes the walks Catherine the Great liked to take in her rose garden with the books she loved as her only company. The fragrance opens like a flower, while the most chypre scents acquire character thanks to a spicy and balsamic trait: Ekaterina's wise personality is portrayed in the same way as her audacity and as her strong and determined character.
The sweetness that emerges from the base notes of Rosa Ekaterina is the scent of a book's old pages. The smell of silk gloves blends with that of paper that has dried out over time; it caresses the flowers' gracefulness that unveil their scent, petal after petal.
The bottle is a masterpiece of high craftsmanship such that each piece is a unique artwork. Moresque's master decorators have retrieved an ancient technique that provides for manual color application with a special natural marine sponge. The porousness of the sponge allows to capture the color in which it is immersed and to form different shades when applying it on the glass of the bottle. Baking and subsequent satin coating give the vase the final effect: finely matte and pleasing to the touch.
Available at Beautique, Dubai Festival City Mall.
---