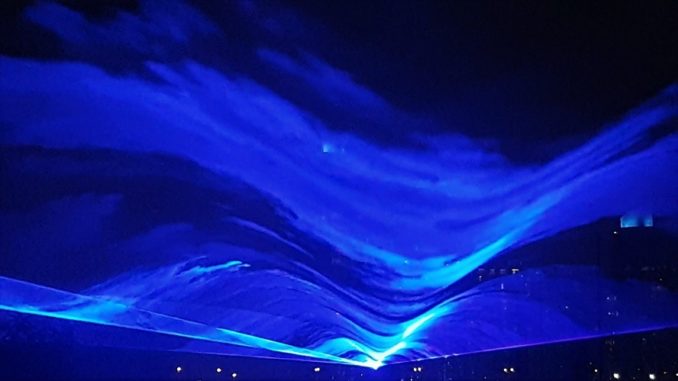 ---
Waterlicht Dubai, internationally acclaimed art experience at Jaddaf Waterfront Sculpture Park
The opening programming of Jaddaf Waterfront Sculpture Park includes the regional premiere of Waterlicht Dubai (2018), an immersive outdoor installation created by Dutch artist and innovator Daan Roosegaarde.
The installation is presented by Dubai Holding and curated by Art Jameel, the independent organisation that supports arts, education and heritage in the Middle East.
Described as a 'dream landscape on the power and poetry of water', Waterlicht Dubai is a monumental, interactive public art installation that uses a combination of LEDs, lenses and site-specific software to create an ever-changing layer of light, the effect of which is to feel immersed under water.
The undulating atmosphere created by the work shifts according to the elements of nature, and creates an overwhelming experience for the attending crowd.
---
Award-winning performance created by Daan Roosegaarde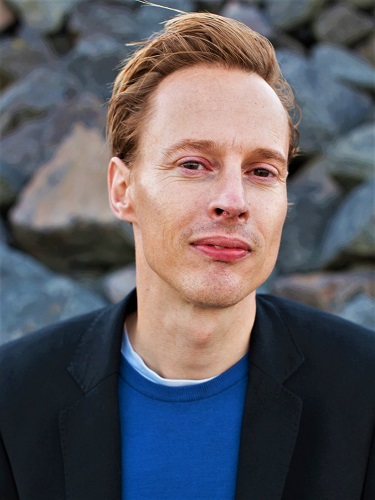 Its creator Daan Roosegaarde is best known for his interactive social designs that play with the boundaries between man, technology and space.
Following a successful tour across Europe and North America, the award-winning performance has reached audiences of nearly 2 million.
Roosegaarde explains, Waterlicht Dubai is about the power and poetry of water innovation, showing the importance of our relationship with nature.

The artwork inspires the sustainable city of tomorrow in the United Arab Emirates, where technology and people live in harmony.

We are proud to work together with Jameel Arts Centre and Dubai Holding.
Throughout Dubai's history, water has been an essential element – physically, socially and economically connecting the emirate with the rest of the globe. Dubai's ambition to be one of the world's leading sustainable cities, moving from fossil fuels to green energy and redefining the region's relationship with water, is a central component to its future plans, reflecting a core theme theme of Expo 2020: sustainability. Waterlicht Dubai creates a collective experience around this issue, indicative of the power of art to foster new ideas.
---
Presented Waterfront by Dubai Holding and Art Jameel
Khalid Al Malik, Chief Real Estate Officer at Dubai Holding, said:

We at Dubai Holding, together with Art Jameel, are very excited to launch Waterlicht Dubai, which is one of the few cities in the world and the first in the region to host this grand spectacle. We believe this moment is truly a celebration of our shared values of enriching our society and strengthening our communities for a prosperous tomorrow.

Our latest mixed-use mega destination Jaddaf Waterfront is the natural venue for this innovative art experience, with its creek view setting beautifully lending itself to the piece's evocative nature.
Al Malik added: Jaddaf Waterfront is a fantastic addition to Dubai Holding's portfolio of iconic destinations that we have proudly delivered over the last 14 years.

Hosting remarkable spaces such as Jameel Arts Centre Dubai and others, it is primed to become Dubai's arts and culture hub, in addition to a cohesive community where people live, work and relax.
---
First of a series of public artistic events
Waterlicht Dubai will be staged three times during Jameel Arts Centre Dubai's opening week. Free and open to the public, Waterlicht Dubai can only be viewed after sunset due to the installation's unique blend of technology and natural atmospherics (advance registration is essential as capacity is limited; details below). The installation launches a series of public events and activations curated by Art Jameel for the Park.
Antonia Carver, Director of Art Jameel, added:

Coinciding with Dubai Design Week, Waterlicht Dubai is an exciting way for us to collaboratively celebrate not only the opening of Jameel Arts Centre and the Jaddaf Waterfront Sculpture Park, but also the city's incredibly innovative design scene, writ large.

It is indicative of the range of performances, installations and events we have planned for the park and we look forward to sharing further details on future happenings soon.
Created by the award-winning, UAE-based architecture studio ibda design, Jaddaf Waterfront Sculpture Park is the first open-air art park located in the heart of Dubai. Adjacent to the new Jameel Arts Centre Dubai, the park serves as a bridge between the public corniche circling Jaddaf Waterfront and the Centre, which officially opened November 11, 2018.
The first non-governmental independent contemporary arts institution of its kind in the Gulf, Jameel Arts Centre's inaugural programme includes exhibitions, new commissions and installations by more than 40 artists, as well as a range of food trucks and on-site experiences.
To see more, attend legendary artist-designer Daan Roosegaarde's keynote at Dubai Design Week in d3 on November 14, co-organised by the Dutch Design Center.
---
Dates: November 11, 15 and 16, 2018 | Timing: 7 pm to 10 pm (doors open 6 pm)
Free; limited capacity; Register online jameelartscentre.org/whats-on/waterlicht/
Listen also to the Waterlicht Dubai podcast on waterlichtradio.com
---