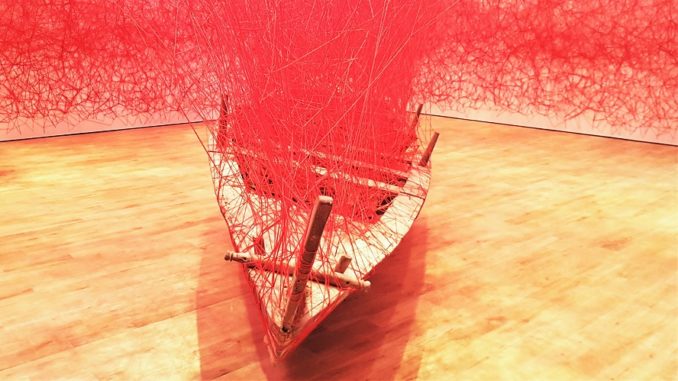 ---
Jameel Arts Centre Dubai opens with an ambitious set of exhibitions and programs
The contemporary arts institution features 10 gallery spaces; the Gulf's first open-access arts library and resource centre; 7 desert gardens; commissions, studio and events spaces; a restaurant and shop
Opening programming includes a significant group exhibition, four solo shows, several site-specific installations and new commissions, the inauguration of a pioneering Youth Assembly and the launch of an open-air sculpture park adjacent to the Centre
This day marks the opening of the much-anticipated Jameel Arts Centre Dubai, an innovative cultural destination developed by Art Jameel, the independent organisation that supports arts, education and heritage in the Middle East.
Designed as a 10,000-square-metre, three-storey, multi-disciplinary space by UK-based Serie Architects, Jameel Arts Centre Dubai is the first non-governmental contemporary arts institution of its kind in the Gulf.
The Centre, which was officially inaugurated on November 8, 2018 by His Highness Sheikh Maktoum bin Mohammed bin Rashid Al Maktoum, Deputy Ruler of the Emirate of Dubai, opened to the public on November 11, with an opening week of programming designed for all ages.
---
Artist's Rooms: Broad-ranging Lineup of Exhibitions
Reflecting the institution's commitment to dynamic programming that resonates with a diverse audience, Jameel Arts Centre Dubai launches with a broad-ranging lineup of exhibitions, commissions and events. Spread across five galleries, the inaugural group exhibition, 'Crude', curated by Murtaza Vali, considers the complex theme of oil within both historic and contemporary contexts.
Artist's Rooms, an ongoing collaborative series of exhibitions that focus on a single artist represented in the Art Jameel Collection, opens with a series of four solo shows by eminent artists from the Middle East and Asia: Maha Malluh, Lala Rukh, Chiharu Shiota and Mounira Al Solh.
A selection of large-scale installations and sculptural works, several newly commissioned, are on view on the Centre's roof terrace and within a series of permanent gardens designed by landscape architect Anouk Vogel.
Gallery 9 focusses on artist's film and video, starting with a work by Jumana Manna.
---
Jameel Library for Research and Education
Jameel Arts Centre Dubai is a venue for ongoing research, education and programming. Jameel Library, the UAE's first open-access contemporary arts library and resource centre, opens with a bilingual collection of nearly 3,000 books, journals, catalogues and theses. Knowledge-generating Library programs will include talks, research projects, symposia and reading groups.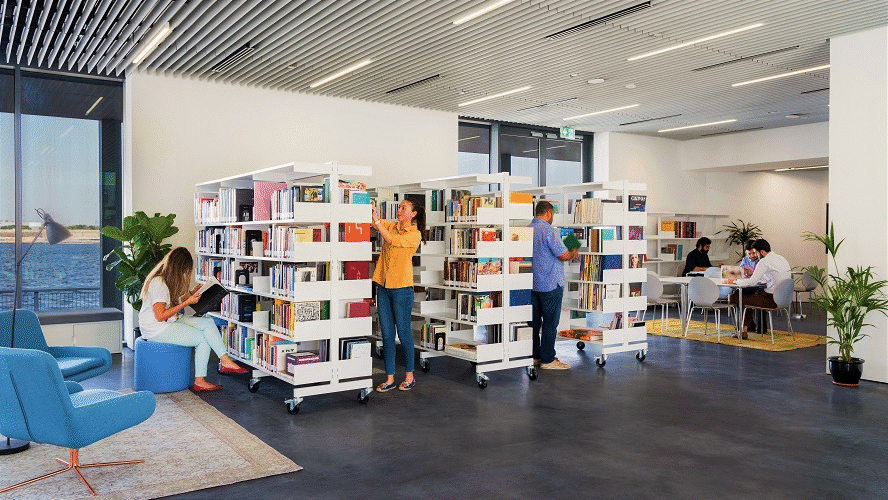 The Youth Assembly, a pioneering peer-to-peer program serving and led by the next generation of creatives, opens its Inaugural session from November 2018 through April 2019. The initiative will lead to the production of art, design, research, interventions and public events specifically geared towards youth aged 18-25.
---
Jaddaf Waterfront Sculpture Park
The Centre's opening also marks the launch of Jaddaf Waterfront Sculpture Park, Dubai's first open-air art park, crafted by UAE-based ibda design and developed by Dubai Holding.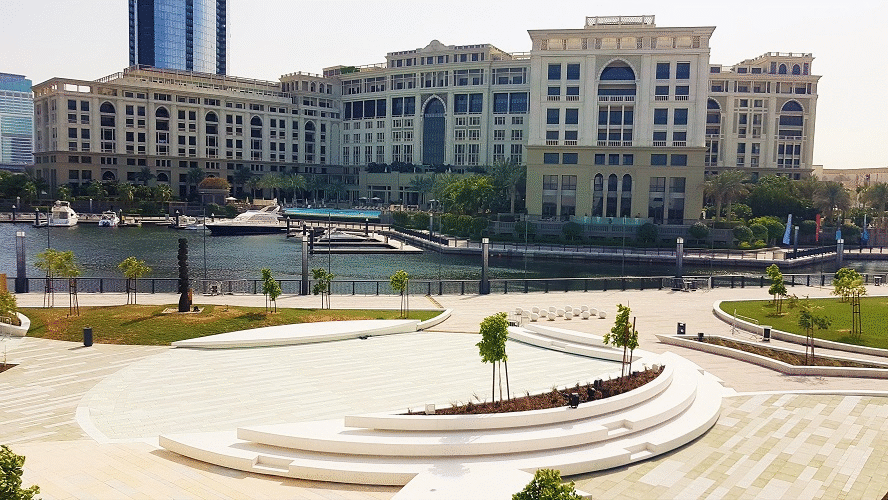 The initial installation includes sculptures by Helaine Blumenfeld, Talin Hazbar and Latifa Saeed, Mohammed Ahmed Ibrahim, David Nash and Slavs and Tatars.
A series of public events and activations curated by Art Jameel for the park kicks off with the Middle Eastern/Asian premiere of Waterlicht Dubai, an immersive light installation by renowned Dutch artist and innovator Daan Roosegaarde, presented by Dubai Holding.
---
Touring Exhibitions and Solo Installations
Rather than presenting a static display of a permanent selection of works, works will be drawn from the Art Jameel Collection for curated exhibitions at the Centre, complemented by works on loan and new commissions.
The Jameel Arts Centre Dubai will also present co-curated and touring exhibitions developed through Art Jameel's long-term partnerships with international institutions.
Further details about the next six months of staggered exhibitions, including new works and solo installations by artists such as Hemali Bhuta, Hassan Khan, Seher Shah, Randhir Singh and Farah Al Qasimi, will be shared in the coming months.
---
Innovative Avenue for Engagement
Antonia Carver, Director of Art Jameel, explained,

Today reflects the culmination of years of engagement with communities in the region and globally. With Jameel Arts Centre Dubai — our first dedicated space – Art Jameel will not only be able to present dynamic exhibitions and new commissions, but also offer an unparalleled public resource for research and documentation.

We're set on developing new, innovative avenues for engagement with diverse communities: youth, academics, artists and the general public.
More information at www.jameelartscentre.org
---