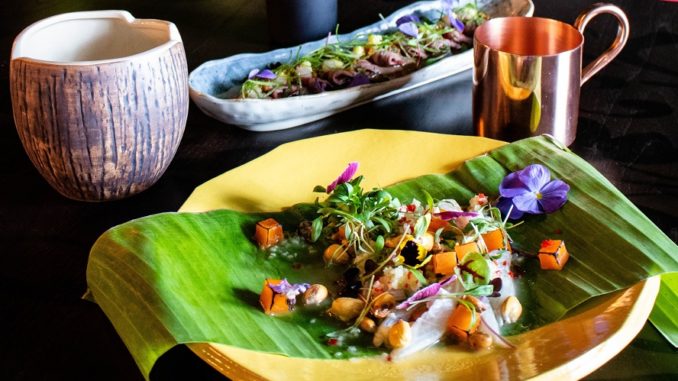 ---
Mama Zonia, Tropical Restaurant, Bar and Lounge Terrace
Hidden in the depths of Dubai Marina, the wonders of Mama Zonia, a new exotic urban jungle, await to be discovered. Make a great escape into the hedonistic wilderness and be led on a mesmerizing journey through the Amazon rainforest where inspiring creativity ignites the senses at every turn.
A tropical chic restaurant, bar and lounge terrace; Mama Zonia has been created to challenge the status quo and allure boundary pushing innovators to indulge in this extrovert experience.
---
As guests take their first steps into this paradise, they are welcomed by live tribal drummers evoking the sounds of an Amazon tribe, before taking in the vibrant and dramatic visuals of the open plan grill kitchen, where methods of cooking involve 'sand grilling' and overwhelming flavors of tropical cuisine are created.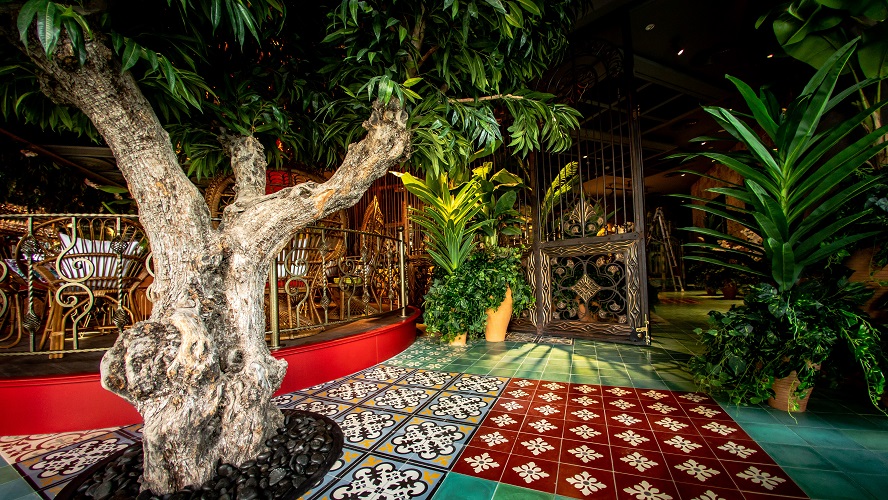 In keeping with Mama Zonia's exuberant personality, here the interiors are bold, stylish and trendy, boasting a larger than life Mango Tree draping the entrance, animated tropical wallpapers, hand painted murals and a plethora of lush jungle foliage, with white orchids and planters suspended from the ceiling to create an enchanting utopia-like ambience. Relax into an eclectic combination of classic mid-century cocktail chairs and contemporary adaptations of tropical cane and rattan and prepare for the eccentric tasting journey ahead.
---
Wide Selection of Multicultural Dishes
A focal point in Mama Zonia is the glamorous cocktail bar, reminiscent of Havana's legendary 'La Floridta', which serves up classic libations with a tropical twist such as the Gardenia Blue and The Piranha Bowl. The dedicated Raw Bar yields a tantalizing selection of freshly caught fish such as the Red Snapper Ceviche which comes marinated in coconut, habanero and pineapple, with a topping of truffle pearls. The Yuzu Ponzu watermelon creation comes in an avocado sauce topped with puffed quinoa, each dish boasting its own outlandish flavor profile.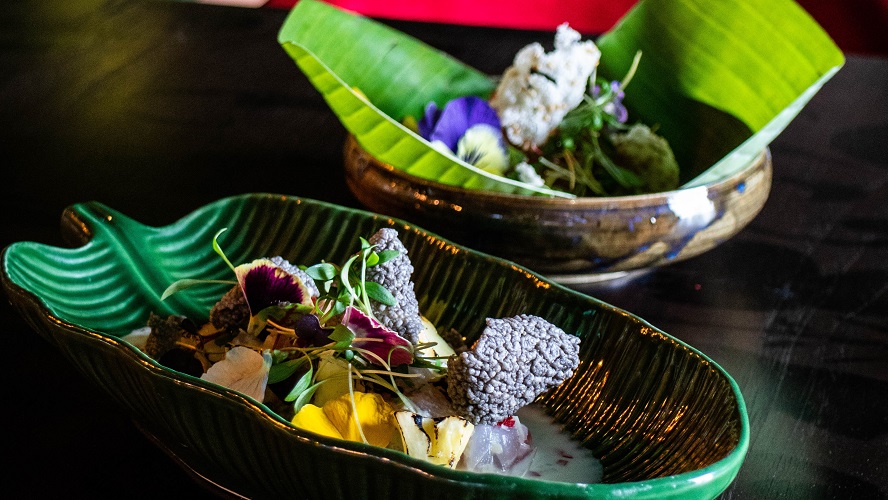 In true South American style, guests will open their taste-buds to a selection of multicultural and trendy tapas plates that are ideal for sharing amongst couples or groups of friends. The MAMA'z Prime Beef Short Ribs which are cooked in the log fire for 14 hours and the Hokkaido Scallops in the shell are undoubtedly two dishes that will ensure diners are left pining for more from this unusual and euphoric menu.
---
Special Packages for the Festive Season
The doors to Mama Zonia's jungle hideaway are being thrown open just in time for some wild and wonderful festive celebrations. The 'Alternative' Christmas Eve and Christmas Day Celebrations will ensure guests are howling with more than a 'Ho, Ho, Ho' from the depths of Urban Tropicana. Expect the ultimate drinks packages from AED 295 and cure the curse of Christmas with Mama Zonia's very own witch doctor potions which come with a 'pa-rum-pa-pum-pum' powerful punch!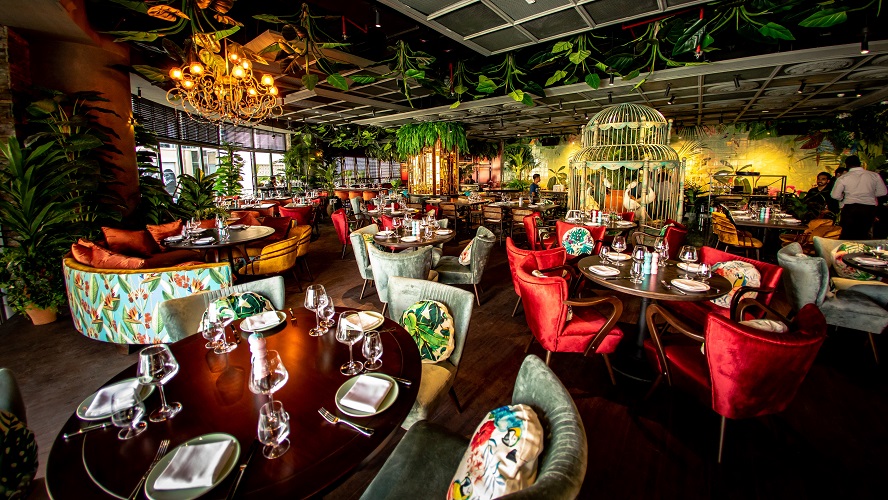 This New Year's Eve it is time to 'Unleash The Beast' at Mama Zonia's tribal takeover with an injection of high energy entertainment and crowd sparking midnight celebrations. Opt for an open bar drink package from AED 490 with the option to dine from the A La Carte or Bar Menu, encouraging a late finish, sitting back and taking in this elevated, electric take on a tropical paradise.
---
Mama Zonia Christmas Eve Dinner
Festive sharing menu inclusive of soft beverages: AED 295
Festive sharing menu inclusive of house beverages: AED 395
Festive sharing menu inclusive of house beverages and sparkling: AED 445
A la carte dining. No minimum spend.
---
Mama Zonia Christmas Day – The Curse is the Cure
Festive drinks package: AED 295 from 6 pm to 9 pm
---
Mama Zonia New Year's Eve – Unleash the Beast
Open Bar in the lounge area: AED 490 from 9 pm to 1 am
Drinks ONLY with Bar snack menu available
Open Bar in restaurant with A la carte menu: AED 490 from 9 pm-1 am
DJ music, performances and live entertainment.
---