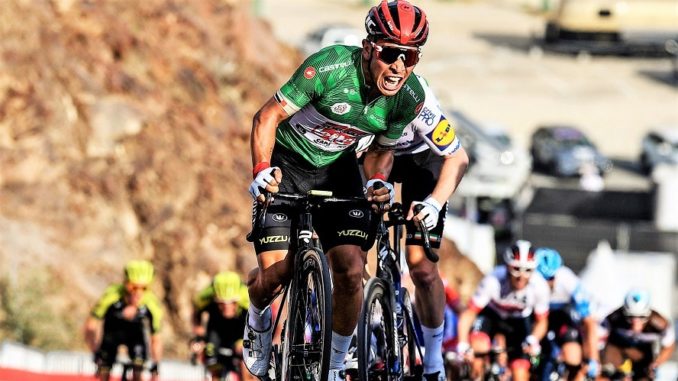 ---
2020 UAE Tour Stage 2 Winner: Caleb Ewan
Australian sprinter Caleb Ewan has won the 2020 UAE Tour Stage 2, the Dubai Municipality Stage, ahead of Sam Bennett and Arnaud Démare. Ewan is the new leader of the GC and was awarded the Red Jersey and the Green Jersey.
STAGE RESULT
Caleb Ewan, 168 km in 4h 18' 16", average speed 39.029km/h
Sam Bennett at 2″
Arnaud Démare at 4″
JERSEYS
The Red Jersey, sponsored by Emirates (General individual classification by time) – Caleb Ewan
The Green Jersey, sponsored by Mubadala (General individual classification by points) – Caleb Ewan, to be worn by Leonardo Tortomasi
The White Jersey, sponsored by Nakheel (Best Young Rider born after 1 January 1995) – Nikolai Cherkasov
The Black Jersey, sponsored by Abu Dhabi Aviation (Intermediate Sprint Jersey Classification) – Veljko Stojnic
GENERAL CLASSIFICATION
Caleb Ewan
Sam Bennett at 12″
Arnaud Démare at 16″
---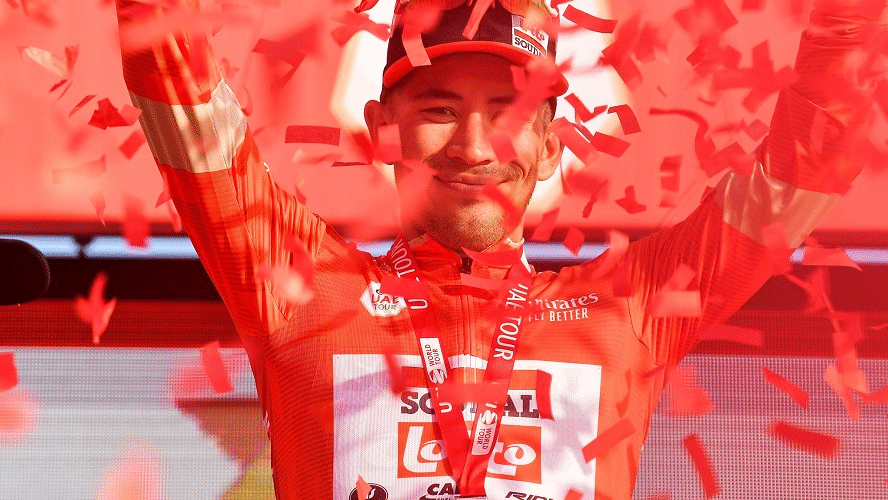 Speaking seconds after the stage finish, the winner and new Red Jersey Caleb Ewan said:
It's great to win here again one year later. We thought it would be a harder stage this time but due to the absence of the wind it was a pretty straightforward race. My team positioned me perfectly.

I wasn't worried when Sam Bennett went before me because I knew this race was to be won in the last twenty meters. Now I lead the UAE Tour after I led the Santos Tour Down Under early this year.

It always feels good leading a stage race even if it might last for only one day.
---
View also
---
About 2020 UAE Tour Stage 2 — Dubai Municipality
(Hatta – Fujairah – Hatta Dam, 168 km)
The stage starts from Hatta (Heritage Village) and crosses the Hajar Mountains and the surrounding desert on wide, straight roads with continuous undulations. After the turning point in Fujairah the route returns towards Hatta. Beyond Munay, the route turns to Huwaylat and from there to Hatta Fort. In that stretch the route overcomes two short climbs with slopes around 10% and a series of fords in concrete. In its finale the route crosses Hatta before the challenging climb of Hatta Dam which reaches 17%.
Last km
The last 3 km present a continuous ascent with some marked bends ahead of the final climb that leads to the dam. After a short stretch of about 200 m with slopes ranging from 12% to 17% the final 150 m straight is on 5 m wide asphalt.
For more information, please visit theuaetour.com
---