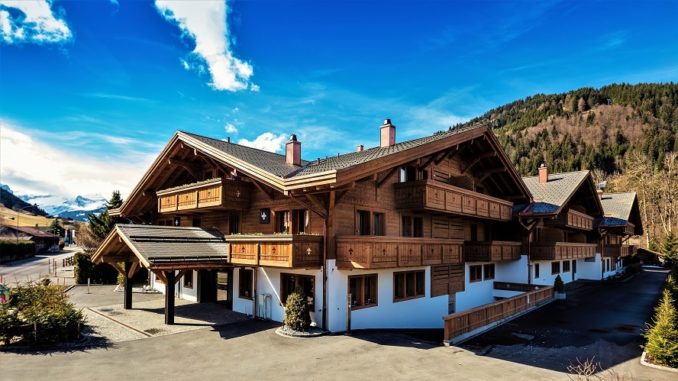 ---
Ultima Collection launches Swiss Gstaad summer offers
Ultima Collection, an ultra-luxury collection of hotels, residences and chalets located throughout Switzerland and France, has launched a series of special packages in Swiss Gstaad for the summer season, aimed specifically at residents in the GCC region.
---
Ultima Gstaad Hotel summer packages for GCC visitors
The superior five-star Ultima Gstaad Hotel, not surprisingly, located in the prestigious Swiss village of Gstaad, between lush green fields and the snowy peaks of the Bernese Alps, is offering both a couples and a family package for the summer season (28th June to 1st September 2019).
The couples' package – priced at USD 2,000 (CHF 2,000) – includes a two night stay in a signature suite, à la carte breakfast which can be served in suite, an afternoon Ultima signature massage, early evening shisha and tea before dinner in the Duchessa Italian restaurant.
Meanwhile, the family package – priced at USD 2,800 (CHF 2,800) – includes a two-night stay in a luxurious two-bedroom residence, à la carte breakfast, a trip to the historic Gruyères Castle and fondue for the family, unlimited access to the Ultima Spa and a specially-customized dinner menu served in the comfort of your residence.
---
The next editions of Ultima are set to open during the second and fourth quarter of 2019, with Ultima Geneva officially launching in June and Ultima Courchevel in December.
---
Ultima Gstaad first superior 5-star hotel opened in 2016
Speaking at the Ultima Collection media lunch, held in Dubai in April, founder Max-Hervé George, said:
The Ultima Gstaad boutique hotel, located in the celebrated Swiss village of Gstaad nestled between the green fields and the white peaks of the Bernese Alps, provides the perfect getaway for both couples and families alike who are seeking privacy, tranquility and relaxation within an opulent setting.

With the GCC guest in mind, each Ultima Collection Gstaad summer package includes a selection of teas, nuts, berries and dates as well as oud-scented perfume in all suites and residences, a prayer mat and Qibla (shows the direction to Mecca) and specially-customized halal menus for breakfast, lunch and dinner. Fully private sessions in the Spa can also be arranged for women in the evenings.
Founded by Byron Baciocchi and Max-Hervé George, who featured in the Forbes top 30 under 30 list, the Ultima Collection opened its first superior five-star hotel in 2016. The deluxe resort is made up of three wooden chalets comprising 11 suites and six residences.
With an eye on the international VIP, each accommodation boasts access to a terrace or balcony offering breathtaking views, walk-in wardrobes, marble covered bathrooms, bronze chimneys to create a cosy and luxurious atmosphere, iPad-controlled lighting and music as well as a private in-house butler available 24 hours a day, George said.
---
The Art of Private Living
Located within close proximity of the famous Bernese Alps, Ultima Gstaad offers its own private ski school as well as personal trainers, a state-of-the-art in-house cinema, the Ultima Spa by La Prairie, Ultima Clinic, the Duchessa Italian restaurant, private chefs and three bars inclusive of a shisha bar and detox bar.
In 2017 visitors from the UAE to Switzerland grew by 9.1%, compared with the previous year, an increase of 11,500 visitors, contributing towards a total of over 350,000 room nights. And with relaxed visa restrictions now in force – allowing UAE nationals to obtain a 30-day visit visa on arrival in Switzerland – tourism professionals expect numbers to continue increasing over the next 12 months and beyond.
In terms of flights it is now easier than ever for GCC tourists to travel to Switzerland, with a flight time of as little as six hours and direct flights with Emirates, Etihad, Oman Air and Swiss International Airlines to Zurich and Geneva.
---
Michala Chatel, Global Head of Sales, Ultima Collection, said:
Switzerland has long enjoyed a strong relationship with the Gulf, thanks to its stunning natural landscapes with crystal clear lakes and snow-capped mountains as well as its peaceful and picturesque cities and villages, ideal for medical tourism and exploring Swiss cultural heritage.

In recent years Switzerland's popularity with travelers from the Gulf region has grown considerably – and we are looking to capitalise on this growth by offering tailor-made packages for GCC visitors.
---
Ultima Collection of Hotels and Residences
Following the success of the hotel in Gstaad, Ultima launched its collection of hotels and residences. The first edition of ultra-luxury chalets officially opened in December 2018 in Crans-Montana – settled at an altitude of 1,600m at Plans-Mayens and home to two ultra-luxurious and completely private chalets which offer direct ski access to the Swiss Alps – and Ultima Megève – featuring two ultra-luxury chalets and situated just minutes from the renowned French Alps ski station with a private heliport allowing direct guest transfers from Zurich and Geneva.
George added: Both resorts offer tailor-made services with 24/7 private butler, chef and driver as well as in-house high-tech cinemas, the Ultima Spa by La Prairie and Ultima medical clinic with treatments available on demand, while Ultima Megève also features an indoor and outdoor pool and fitness centre and Ultima Crans-Montana a private ski school.
For more information about Ultima Collection, please visit: www.ultimacollection.com
---