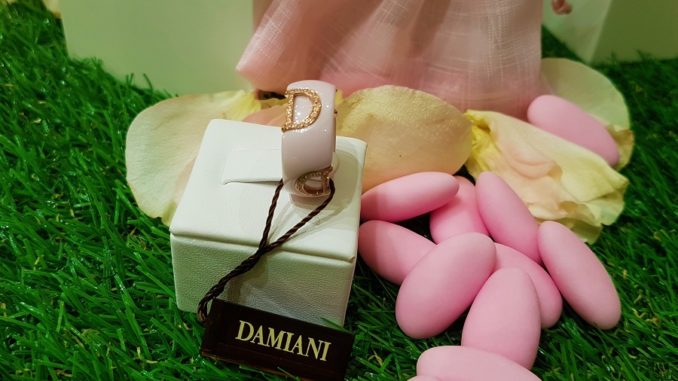 ---

Damiani Dubai launches a brand new color, Pink Candy, for the D.Icon ring, as a worldwide exclusive for Dubai. Pink ceramic meets elegance, with the stunning Damiani D.Icon Rosa Confetto ring.
The D.Icon collection is the latest evolution of the goldsmith's art; Damiani's craftsmen of Valenza have introduced Hi-Tech ceramic to the traditional processing of gold and diamonds, creating an elegant and glamorous collection with a unique and modern design.
The full circular shapes are accentuated by the beautifully rounded cross-section which winds harmoniously and evokes the D of Damiani, while the gold embellishes the ceramic and the diamonds add a brilliant and exclusive finish to the ring.
The rounded and easily recognizable shapes are emphasized by a curved profile that makes D.Icon a unique and cult collection for glamour lovers around the world.
---
D.Icon is made up of a beautiful range of necklaces, bracelet, earrings and rings, and is one of Damiani's most popular and iconic collections. Over the years, the D Icon collection has added new colours: today the palette ranges from classic black and white to the more trendy shades of cappuccino and pale blue "Carta da Zucchero" (sugar paper). The new D.Icon ring in a delicate shade of pink, Rosa Confetto, is the latest, exquisite addition.
The Rosa Confetto ring, has been inspired by traditional Italian candy, associated with important celebrations among close friends and family in Italy. Rosa Confetto is used to celebrate the birth of a girl, and is the most feminine color to join the D.Icon family. Damiani's choice of the new Rosa Confetto shade of fresh pink is a celebration of contemporary women.

---
Guido Damiani, President of Damiani said: "The choice of Dubai to premiere the exclusive new color is homage to the United Arab Emirates and its recently inaugurated Damiani boutique at Dubai Mall. Dubai is an international city, a landmark for all the Middle East, with a large number of ladies, who appreciate the most sought after luxury jewellery, always looking for elegant and elaborate statement designs."
D-Icon's latest edition, Rosa Confetto, with be available exclusively in Dubai's Damiani Boutique at Dubai Mall, until April 2018, prior to its worldwide launch.
View also
---
Damiani is the only international brand which has designed and produced jewelry since its creation and one of the few international luxury brands managed by the founder's direct descendants. Every Damiani piece of jewelry is the result of painstaking creativity, exclusive design, and infinite attention to detail combined with the most exquisite gems.
---